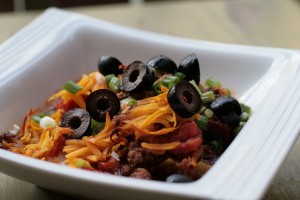 Aly has requested Taco Tuesday. It's a rainy fall day and I want something easy and comforting that can cook while I'm picking up Josh from gymnastics. To kill two birds with one stone, I made a double batch of taco meat so that Aly can have her tacos, then I created this yummy casserole for us to enjoy. I prepared this all during the day so I could just pop it in the oven before dinner. Isn't it crazy how much the shredded squash looks like cheese? I topped the finished casserole with some paleo sour cream and mashed avocado. This was really good and so were the leftovers!
Taco Casserole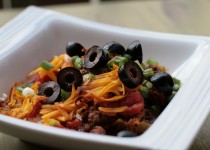 This is great served with mashed avocado and paleo sour cream.
Prep Time:

30 minutes

Cook time:

45 minutes

Yield:

6 servings
Ingredients:
Preparation:
Preheat oven to 350 degrees F.
Brown ground beef in a large skillet over medium-high heat.
In a medium bowl, combine all seasoning mix dry ingredients. Add warm water and use a whisk to combine.
While meat cooks, cut onion, pepper, and garlic.
Warm another skillet over medium heat and saute vegetables for about 10 minutes or until onion becomes translucent. Add tomatoes and their juices and continue to cook for 2-3 more minutes.
Peel squash, remove seeds, and cut into large chunks. Shred in a food processor or using a hand shredder.
When meat is just cooked through, pour seasoning mix over meat and simmer until most of the liquid has cooked off, about 5-10 minutes.
Layer 1 to 1 1/2 pounds seasoned beef in the bottom of a casserole dish.
NOTE: I reserved about 1/2-3/4 pound of the ground beef for my kids. You can either reserve some or add it all in and have more leftovers.
Top with vegetable mixture, then shredded squash.
Cook for 45 minutes or until squash is browned and tender.
Sprinkle green onions and black olives on top.
To serve, scoop out portions of the casserole and place it in shallow bowls. Serve with mashed avocado and paleo sour cream, if desired.