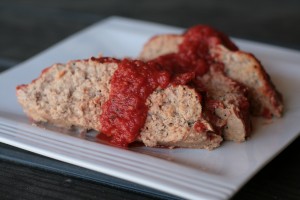 This meal was perfect. My mom adapted one of her favorite meatloaf recipes to make it paleo and brought a double recipe to our house for a family party. She used turkey, but I think any ground meat would work. Be sure to make your own paleo Worcestershire sauce and ketchup–they taste great and each takes only about 10 minutes to make. This recipe can be halved to make a smaller meatloaf, but if I were you, I'd divide the full recipe into two meatloafs and freeze one of them for later use.
Adapted from The Barefoot Contessa Cookbook.
Turkey Meatloaf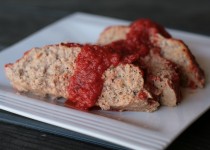 You can use paleo ketchup or your favorite all-natural jarred tomato sauce for this recipe. We used Gabriel's Marinara.
Prep Time:

30 minutes

Cook time:

01h 30min

Yield:

8-10 servings
Ingredients:
Preparation:
Preheat oven to 325 degrees F.

Warm olive oil in a large skillet over medium-low heat. Add onions, salt, pepper, and thyme until the onions are translucent but not browned, about 15 minutes.

Stir in the Worcestershire sauce, chicken stock, and tomato paste. Remove from heat and let cool to room temperature.

Combine turkey, almond meal, eggs, and cooled onion mixture in a large bowl. Use your hands or a wooden mixing spoon to mix well.

Transfer mixture onto work surface and form into a rectangular loaf. 

Place meatloaf on a large, rimmed baking sheet. Drizzle with paleo ketchup or tomato sauce.

Bake on a middle rack for 1 1/2 hours or until the internal temperature is 160 degrees and the meatloaf is cooked through. Place a pan of hot water on a lower rack to prevent the loaf from cracking.

To serve slices warm or at room temperature.