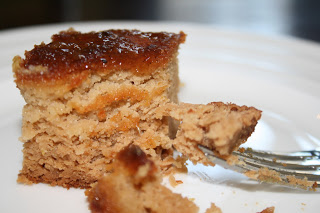 This repost is for Jen.

It is STILL the best paleo pound cake I've ever had—give it a try!
A couple of months ago, my husband relayed a request to me from Brandon and Tosha from CrossFit VisOne for a lemon pound cake to rival their favorite treat at Starbucks. Since I was no pro in the lemon cake category, I searched for a recipe to use as a starting point. I came upon this one and it had all of the elements that have worked for me in the past: a nice balance of almond flour, coconut flour, and eggs; honey for the sweetener, lots of vanilla, and not too much coconut oil. Wow! This recipe far exceeded my expectations. I made only a couple of minor adaptations to the original. Kudos to Karen at HealBalanceLive! You will definitely enjoy this one!
Adapted from heal-balance-live.blogspot.com.
Best Lemon Pound Cake Ever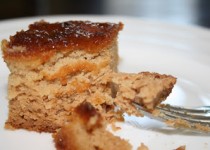 Ingredients:
Preparation:
Preheat oven to 350ºF.
Prepare a 9x9 baking pan by coating the interior lightly with coconut oil. Cut parchment paper to fit the bottom of the pan and place it over the coconut oil.
Sift dry ingredients in a large mixing bowl and stir with a whisk to combine.
Place oil and honey in the bowl of a food processor and process for 1-2 minutes. Add eggs, one at a time, mixing after each addition. Add coconut milk, vanilla, and lemon zest, and continue to process until well combined.
NOTE: This step can be done in a large bowl with a hand mixer.
Make a well in the center of the dry ingredients and pour in the wet ingredients. Use a wooden mixing spoon to thoroughly combine ingredients, pressing out any lumps.
Pour batter into prepared pan and bake for 35 minutes or until a toothpick inserted in the center comes out clean. The top will be lightly browned.
Let cake cool in the pan for 10 minutes, run a butter knife around the edge of the pan to loosen the cake, and then turn it out onto a cake plate and let cool completely.
While cake bakes, prepare the glaze by slitting vanilla bean lengthwise and scraping the beans into a small saucepan. Add the vanilla bean pod, lemon juice, zest, and honey to the pan. Bring to a simmer over medium heat. Reduce heat to low and simmer for 10 minutes. Let cool to room temperature. Remove pod and discard.
Using the tines of a fork, perforate the top of the cake several times. Pour glaze over the cake, using a spatula to evenly distribute the glaze over the entire cake top. Let the cake rest for an hour to fully absorb the glaze. Serve immediately or cover and store in the refrigerator.