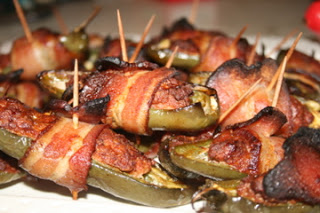 I discovered this treat at a holiday party. One of my good friends brought it—and he's not even paleo. It took me no time at all to recreate this dish. Our local grocery store sells fresh chorizo—be sure to use fresh instead of the pre-cooked kind. If chorizo is not available to you, you could substitute Italian sausage. Be sure to add water to the bottom of your pan before baking or you will have one smoky kitchen! If you have any leftovers, these are great chopped up with eggs in the morning. Enjoy!
Bacon-Wrapped Jalapenos Stuffed with Chorizo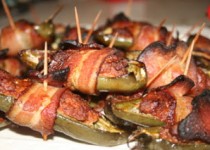 Prep Time:

30 minutes

Cook time:

30 minutes

Yield:

24 servings
Ingredients:
Preparation: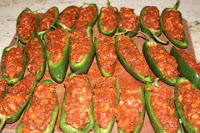 Stuff the peppers well since the chorizo will shrink as it cooks.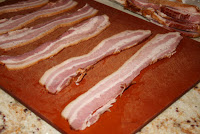 Roll the bacon so it is 20-30 percent longer than its original length, as seen on the right.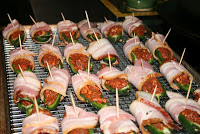 Add water to the bottom of the pan to avoid smoke.
Preheat oven to 400ºF.
Pour water in the bottom of a large, rimmed baking sheet. The water will keep your oven from smoking up as you bake the jalapenos. Set a rack in the pan. Set aside.
Cut jalapenos in half lengthwise, remove seeds, and core.
Using a small spoon (I use a baby spoon), fill the jalapenos with chorizo. The chorizo will shrink as it cooks, so stuff them pretty full.
Lie the bacon on a cutting surface and, with a rolling pin or pastry roller, roll each bacon piece out to be about 20-30 percent longer than its original length.
Cut bacon in half crosswise and wrap each stuffed jalapeno with bacon, securing with a toothpick.
Place jalapenos on the rack set inside the baking sheet.
Bake for 30 minutes or until bacon is crisp and chorizo is cooked through.