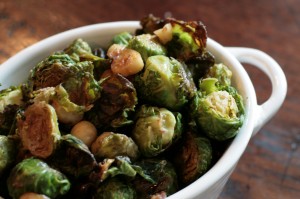 I love Brussels and hazelnuts (well, any nut, really!), and it just so happened that I had both of these ingredients on hand when I came across this recipe in The Primal Blueprint Cookbook
. This is such a great winter treat! I've got to say here that Mark Sisson is awesome! If you haven't read The Primal Blueprint
 yet, I highly recommend it for an easy-to-read, informative explanation of primal living. His web site, marksdailyapple.com is a great resource of information as well. This recipe is quick, delicious, and uses only a few ingredients. Try to use grass-fed butter if you can find it. If not, go for organic.
Adapted from The Primal Blueprint Cookbook
, Mark Sisson and Jennifer Meier.
Brussels Sprouts with Hazelnut Brown Butter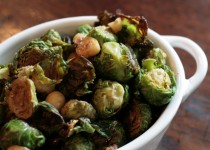 Prep Time:

10 minutes

Cook time:

20 minutes

Yield:

4 servings
Ingredients:
Preparation:
Preheat oven to 450° F.
Clean and trim Brussels, then halve or quarter them depending on their size.
Place butter on a large, rimmed baking sheet.
Roast on bottom oven rack for 4-6 minutes or until butter is browned and fragrant.
NOTE: Watch the butter to make sure it doesn't burn.
Carefully remove the baking sheet. Add Brussels and hazelnuts, tossing with a large spoon or spatula to coat. Season with salt and pepper.
Return the pan to the oven and roast for 7 minutes. Carefully remove, sprinkle with water, and gently toss.
Return pan to the oven and roast for an additional 7-9 minutes or until Brussels are tender and lightly toasted.