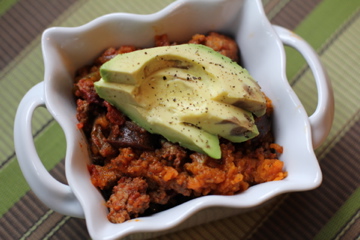 Who doesn't like a good chili dog? This casserole is a great one to enjoy on a Sunday afternoon or while watching  weeknight sports on TV (if you make the chili in advance). Start the chili early and feel free to substitute your favorite easy chili recipe. I just combined some ingredients I had on hand. I happened to have some grass-fed beef brats in the freezer, which offered the perfect flavor for this meal. But if you are a fan of Applegate hot dogs, you can use them instead.
This meal was tasty in a gut-warming kind of way, with the butternut squash adding a bit of creaminess to balance the subtle heat of the chili. I made the chili in the afternoon and put it in the crock pot to simmer for a couple of hours. This casserole was easy to put together, and Alex and Dave both had two large servings. Alex said it reminded him of his childhood—spaghettios maybe? (He was saying it as a complement…really!)  Give it a try!
Adapted from tgipaleo.com.
Chili Dog Casserole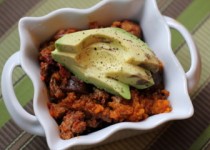 Ingredients:
Preparation:
Preheat oven to 350ºF.
Saute onion, ground beef, and sausage in a medium saucepan or skillet until just cooked through, about 10 minutes.
Add the remaining chili ingredients to the pan, stir, and simmer on low for an hour or more. Alternately, transfer the meat mixture to a crock pot, add the chili ingredients, and cook on low for a couple of hours.
Cut bratwurst crosswise into 1/2-inch slices. Add fat of your choice to a skillet and brown bratwurst on both sides. I let mine cook for a couple of minutes on each side until they developed  a nice crust.
Shred squash using a food processor (or a hand grater if you've got some extra time). Saute squash in a large skillet with 1 Tbsp of fat. Transfer to a square baking dish and press down firmly.
Top with bratwurst medallions, arranged in a single layer.
Scoop about 7 cups of chili over the brats, reserve the rest for another use.
Bake casserole for 30-40 minutes or until bubbly. Remove from oven and let rest for 5-10 minutes before serving.
While casserole rests, combine avocado, lime juice, salt, and pepper in a small bowl.
Scoop casserole into shallow bowls and top with avocado mixture.