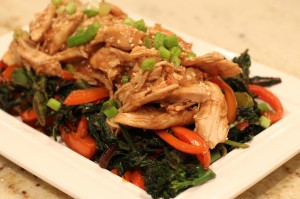 We were happy to welcome Dave's mom for a visit last weekend. She travelled in from Cleveland with my nephew Jordan and his wife, Shelley. The day they arrived was very cold and snowy so the last thing I wanted to do was venture to the grocery store. I decided to make use of the food I had on hand instead. I also needed a meal that could feed a crowd since we'd have six adults at the table. This meal turned out great. It was super easy to put together and was plenty to feed a crowd—we even had leftovers. I served this with sauteed chard, red peppers, and broccoli since that's what I had on hand. This would also be great with cauliflower rice or on a bed of sauteed spinach. This one's a keeper! Enjoy!
Adapted from thecomfortofcooking.com.
Crock Pot Honey Sesame Chicken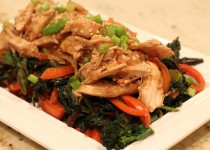 Prep Time:

10 minutes

Cook time:

03h 00min

Yield:

6-8 servings
Ingredients:
Preparation:
Place chicken in crock pot and season with salt and pepper.
Place remaining ingredients, except for arrowroot powder, in the bowl of a food processor. Pulse several times until onion and garlic are diced and liquid ingredients are well combined. Pour over chicken.
Cook on low for 3 hours or high for 2 hours.
Transfer chicken to a cutting board and use two forks to shred into bite-sized pieces.
Turn crock pot to high. Whisk arrowroot powder into cooking liquid and cook for about 5 minutes or until slightly thickened.
Add chicken back into liquid and stir to combine.
To make veggies, warm coconut oil in a large skillet over medium high heat. Add veggies and saute until chard is wilted and pepper and broccoli is tender. Season with remaining ingredients, stirring to combine.
To serve family style, transfer veggies to a large serving platter and top with chicken mixture.  Sprinkle with sesame seeds and green onion.