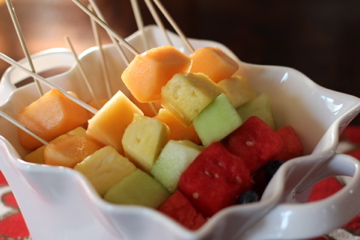 There's not too much that can go wrong here! Choose any fruit you like and skewer it on 8-inch bamboo skewers for easy and healthy party fare. I purchased my fruit from the salad bar, picking through the freshly sliced melon and pineapple to be sure I selected pieces that I wouldn't have to recut. I made 10 skewers in about 5 minutes. Add a blueberry to the end for a nice touch.
Fruit Skewers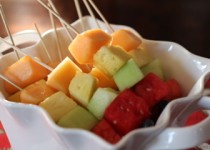 Ingredients:
Preparation:
Skewer one chunk of pineapple, watermelon, cantaloupe, and honeydew melon onto each skewer. Place a blueberry on the end of each.
Arrange in a pretty bowl or platter.