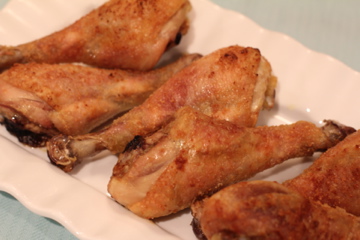 Aly is currently in the throes of a love affair with Harry Potter. During our last school break, we watched every movie in the series, and she just completed reading the first book and is on to number two. I have to say that I enjoyed the movies as well…and I'm especially enjoying  my children's request for me to make "Ron Weasley" chicken legs. If you've seen any of the movies, you'll remember the remarkable feasts that magically appear in the Great Hall. And Ron just can't get enough of those chicken legs! Why are they magical? Well, first, I figured I'd be infringing on some copyright law if I named them "Ron Weasley Chicken Legs" (but that's what we call them at home), second, I consider it magical that I have found a quick and easy dinner that everyone is happy eating. NO complaints! Last time I made them, Josh even hoarded the last leg so Dave wouldn't snatch it up. These legs are simply seasoned with my favorite blend of onion powder, garlic powder, and sea salt. I'm sure you'll love the flavor and simplicity of this meal as much as we do. Oh, and if you don't have drumsticks, any part of the chicken will do. I sometimes add a few thighs to the mix if we are really hungry. These are great with sweet potato fries. Enjoy!
Magical Chicken Legs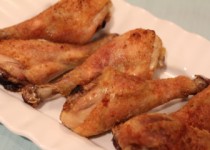 I use expeller-pressed coconut oil for this dish since it has a neutral flavor. Feel free to substitute virgin coconut oil if you don't mind a little bit of a coconut flavor.
Bring your chicken legs out of the fridge for about 10-15 minutes before you baste them or the coconut oil will solidify again when it touches the cold surface.
I use the full teaspoon of salt, but you can cut the amount back a bit if you prefer.
Prep Time:

5 minutes

Cook time:

45 minutes

Yield:

3-4 servings
Ingredients:
Preparation:
Preheat oven to 375ºF. Use convection setting, if available.

Combine rub ingredients (salt, garlic powder, onion powder, and coconut oil) in a medium bowl.

Lay legs in a single layer in a small baking dish. Use a basting brush to baste all sides of the chicken with the rub.

Bake for 45 minutes or until the internal temperature reaches 165ºF. There will be oil in the bottom of the baking dish. To crisp the bottom of the chicken, use tongs to carefully transfer chicken to a baking sheet and continue to bake for about 5 additional minutes.