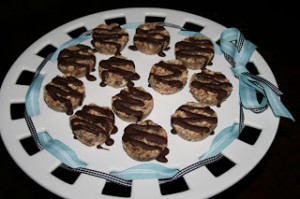 At most of the parties we host, I offer only paleo appetizers and treats. Even people who are unaware of our lifestyle usually notice the awesomeness of the food, not the absence of grains, dairy, and refined sugars. This sweet treat is always a hit and it usually sparks some great conversation about the benefits of the paleo lifestyle.
I prettied these up for a party using mini muffin tins. Typically, I press them in a 9×9 pan and drizzle chocolate over the whole thing. If you make them in a pan, remember to cut the bars before the chocolate cools or it has a tendency to crack. My children, who usually reject my offerings of paleo sweets, really love this treat!
Adapted from elanaspantry.com.
Paleo Almond Bites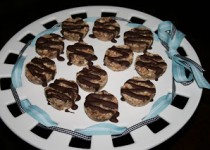 These are great snacks and can really help satisfy a sweet tooth!
Go with only one cup of dates and skip the chocolate for a great pre- or post-workout snack.
Prep Time:

02h 00min

Yield:

36 mini bites or about 20 bars
Ingredients:
Preparation: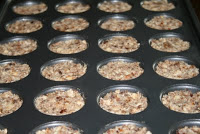 Melt coconut oil using your preferred method (microwave or stovetop). Set aside.
Place all ingredients but coconut oil  and chocolate in food processor and pulse briefly until ingredients form a very coarse paste.
Slowly add coconut oil and pulse until well combined.
Using a small scoop or teaspoon, evenly distribute mixture into 36 mini muffin tins. Press each bite down firmly.
Chill in refrigerator for 1 hour or until mixture hardens.
In the meantime, in a double boiler or metal bowl set on top of a pan of boiling water, melt chocolate. Spoon the melted chocolate into a squeeze bottle (available at some grocery stores and cooking retailers). You may also use a spoon to drizzle.
Remove each bite, using a small spatula or knife inserted along one edge to pop them out. Set bites, spaced fairly close together, on a sheet of parchment or wax paper set on top of a cutting board.
Using squeeze bottle or spoon, drizzle each bite with chocolate. Return bites to fridge until chocolate sets, about 15 minutes.
Store bites in refrigerator until ready to eat (or serve). If left at room temperature for too long, they tend to crumble.