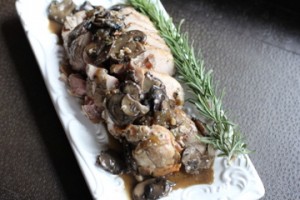 This is one of those recipes that I clipped and put in my folder of recipes that I need to try. I've experimented with lots of different stuffed meat recipes and let's just say that I am usually a bit challenged by them. For one, I am not a whiz with kitchen twine. My wrapping is anything but pretty. Secondly, I always tend to overstuff the meat. And third, to ensure the meat is cooked, my careful efforts sometimes result in a disappointing piece of dry stuffed meat. Well, this recipe was a turning point for me. I made it on a weeknight, but it is definitely delicious and elegant enough for guests or a special occasion. The pork stayed moist and the stuffing method was ingenious: laying prosciutto over two tenderloins then filling it with a delicious stuffing and rolling one over the other. Furthermore, the mushroom sauce added a more complex flavor and seemed to boost the tenderness and moisture of the pork. This is a keeper!
Adapted from Bon Appetit, January 2003.
Prosciutto-Stuffed Pork Tenderloin with Mushroom Sauce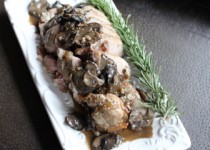 Purchase pre-sliced mushrooms to speed along your prep time.
Prep Time:

40 minutes

Cook time:

50 minutes

Yield:

6 servings
Ingredients:
Preparation:
Place the tenderloins side-by-side  on a flat work surface. Arrange the tenderloins so that the narrow end of one loin is against the wide end of the other.

Place prosciutto slices crosswise over tenderloins, slightly overlapping the edges so that none of the tenderloin is exposed. Long ends of prosciutto will hang over pork on both sides.

In a small bowl, make the stuffing by combining almond meal (or flour), rosemary, and thyme. Add one Tbsp olive oil and stir to combine.

Spoon stuffing on half of the prosciutto that covers the entire length of one of the tenderloins. Fold the other half of the prosciutto over the stuffing to form a pocket, then arrange the second pork tenderloin on top.

Tie tenderloins together in 5-6 evenly spaced places. 

The pork tenderloins will now look like a stuffed pork roast.

Sprinkle roast with salt and pepper. Tuck 1-2 sprigs of rosemary under the twine.

Preheat oven to 350ºF.

Warm 1 Tbsp olive oil in a large heat-proof skillet (cast iron is perfect) over medium-high heat. Use tongs to brown roast on all sides, about 7 minutes total.

Carefully transfer the skillet to the oven (handle will be hot) and roast, uncovered, for about 35 minutes, or until the pork reaches 145ºF.

Use tongs to transfer pork to a cutting board. Tent loosely with foil and let rest for 10 minutes.

While pork rests, place skillet with pork juices on the stovetop over medium heat. Add mushrooms and garlic. Saute until mushrooms begin to brown, about 5 minutes. Add chicken stock and vinegar. Bring to a boil, then reduce mixture until it thickens slightly, about 12 minutes. Add arrowroot powder, if desired, and stir until thickened. Season with salt and pepper.

Cut roast crosswise, removing string as you go, and transfer to serving platter. Spoon mushroom sauce over roast and garnish with additional rosemary, if desired.