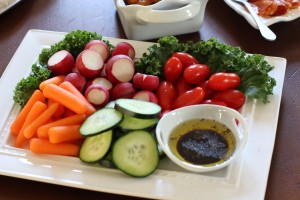 When I'm at a party, I like to much on something with a little crunch. A simple veggie platter can help avoid the chips and also stands in as a dipper for guacamole or salsa, party staples. You can make this platter as simple as purchasing a precut veggie tray and combining a little oil and vinegar with salt and pepper. I prefer to cut up the organic veggies that are usually stocked in my refrigerator. The simple vinaigrette served with this veggie platter goes with every veggie! Enjoy this simple party platter!
Veggie Platter with Simple Vinaigrette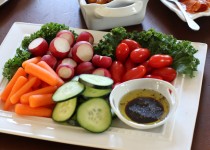 Use the vegetables of your choice for this platter.
Ingredients:
Preparation:
Combine vinaigrette ingredients in a small bowl.
Arrange kale on a large platter. Top with veggies. Place bowl on or alongside platter.