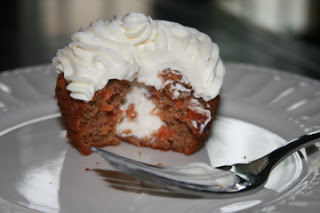 I'm not gonna lie, on holidays I usually have a hard time resisting my family's favorite cake. Oh yeah, it's the Dairy Queen ice cream cake with crunchy chocolate filling. I'm telling you, it goes FAST! Well, this Easter, I added another option to the mix to help me avoid the ice cream cake. I still got a little dairy with the cream cheese frosting, but it was so much more healthy that the other option. I first saw this recipe on The Food Lovers' Primal Palate. I have had great luck with Bill and Hayley's baked goods. I made a few modifications and used a different frosting recipe. This cake is delicious and the frosting is well worth the dairy if you can tolerate it. And this was WAY better than the ice cream cake! In the photo I used the same recipe in a cupcake version. Yummy! Enjoy!
Adapted from www.primal-palate.com.
Carrot Cake with Primal Cream Cheese Frosting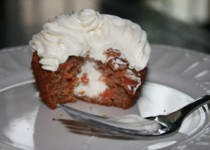 Prep Time:

01h 30min

Cook time:

20 minutes

Yield:

one double-layer cake or 24 cupcakes

Allergens: Eggs
Ingredients:
Preparation:
Cake
Place shredded carrots in a medium bowl. Pour syrup over the carrots and let them marinade in the refrigerator for one hour.
Preheat oven to 325°F.
Prepare two 9-inch cake pans by lightly coating with coconut oil. Cut parchment paper to fit in the bottom of each pan and place it over the oil.
Place dates in a small bowl. Add one Tbsp warm water to the bowl and microwave on high for 30 seconds.
Place date mixture and 1 Tbsp maple syrup in food processor and process into a paste.
Add eggs, vanilla, and coconut oil to date paste in food processor and process until smooth, scraping down the sides of the bowl, as needed.
Sift coconut flour, cinnamon, salt, and baking soda into a small bowl.
Add dry ingredients to wet and pulse to combine.
Transfer mixture to a large mixing bowl.
Drain carrots, discard the liquid, and fold carrots into batter.
Divide batter evenly between cake pans. (You can also divide into 24 cupcake tins.)
Bake for 20 minutes or until a toothpick inserted in the middle comes out clean.
While cake bakes, prepare frosting (see below).
Run a knife around the edge of the cake and transfer to a cooling rack.
When the cake is completely cooled, frost with cream cheese frosting and garnish with walnuts.
Frosting
In a large, deep bowl, use an electric mixer to whip the cream until stiff peaks form.
In another large bowl, whip together the cream cheese and maple syrup until well combined.
Gently fold the whipped cream into the cream cheese mixture using a rubber spatula.
Spread or pipe onto cupcakes or cake.