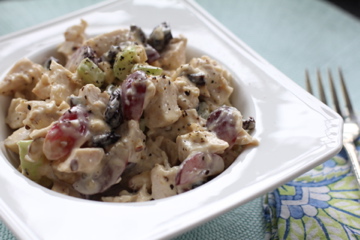 This week, I found myself with an abundance of grapes and celery from my organics box. Instead of letting them become a mushy or rubbery addition to our compost bin, I decided to combine them with a few other simple ingredients to make this delicious chicken salad! Roasted hazelnuts were great in this salad but pecans, almonds, walnuts, or macadamias would work well, too. Use leftover chicken or a rotisserie chicken and your meal will come together in a snap. This salad is great for lunch or a light dinner. It's one of those salads that tastes just as great the next day, so enjoy the leftovers, too!
Adapted from addapinch.com.
Chicken Salad with Grapes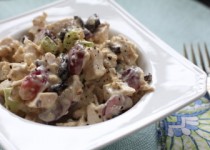 This recipe uses paleo mayonnaise. If you are making a fresh batch, add about 5 minutes on to the total prep time.
Ingredients:
Preparation:
Combine all ingredients in a large bowl and stir gently to combine. Enjoy!