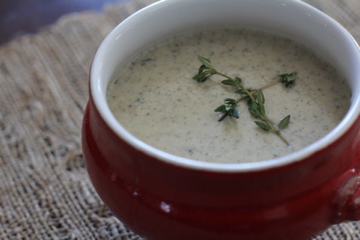 As a child, my mom always made macaroni and cheese, tuna, and cream of mushroom soup casserole on Fridays during Lent. (This is no reflection of her culinary skills!) I loved it, except for the little pieces of mushroom that I would pick out and leave in a pile on my plate. Well, my tastes and nutritional standpoint have evolved to a point where, today, I would go with straight tuna for that meal. However, I have wondered if there's a good paleo substitute for the old-school, sodium-filled cans of cream of mushroom and cream of celery soup. Just think about the possibilities it would open up to recreate some of those well-known, one-dish casseroles.  I have actually tried some pretty awesome mushroom soups in my day. I even have another mushroom soup recipe posted on my blogspot blog (soon to be converted here). But, I've got to say, this soup trumps it.
Paleo cooking can be challenging sometimes when you are trying to obtain a creamy consistency without using coconut milk. Cashew cream—soaked cashews pureed with some water—is a great option. I soaked my cashews for more than 24 hours, just because I didn't get around to making this soup right away. But you can soak them for as little as an hour. Just place the cashews in a bowl and cover them with water (I use filtered water). Let them soak until you are ready to use them, then drain the soaking water and rinse with clean water until it runs clear. It's that easy.
This recipe calls for a splash of white wine. We had a bottle open, so I used it. You only need a couple of tablespoons and it adds a great dimension to the soup. If you choose not to use the wine, simply skip that step. Use good-quality chicken stock for best results. Mine was home-made and had great flavor.
I am not kidding you, this soup is awesome. When I first took a little taste from my soup pot, I was surprised at how good it was. We ate almost the entire pot of soup for lunch! Give it a try and let me know if you enjoy it as much as we did!
Adapted from preppypaleo.blogspot.com.
Cream of Mushroom Soup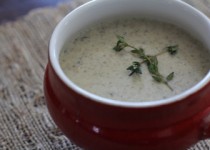 The preparation time listed includes one hour of cashew soaking time. If you have a blender, use it instead of a food processor to make the cashew cream. It is difficult to get the proper consistency with a food processor.
If you prefer a chunkier soup, reserve a few sauteed mushrooms and add them at the end.
If you do not have an immersion blender, transfer the cooked soup to a blender or food processor and process to your desired consistency.
Prep Time:

01h 15min

Cook time:

30 minutes

Yield:

6 cups

Allergens: Nuts
Ingredients:
Preparation:
Place soaked and drained cashews and 1/2 cup water in a blender and process until they reach a creamy consistency. Add more water, if needed. This is what your cashew cream should look like:

Melt butter in a large soup pot over medium heat. Add mushrooms, leek, and garlic and saute until tender, stirring occasionally, about 10 minutes. Add wine, stir, and continue cooking until liquid is evaporated, about 5 minutes.
Increase heat to medium high. Add chicken stock and stir. Bring mixture to a boil, then reduce heat and simmer for 5 minutes.
Reduce heat to medium, add cashew cream, thyme, salt, and pepper. Stir to combine and heat until warm throughout.
Remove from heat. Use an immersion blender to blend until the soup reaches your desired consistency. (I prefer it smooth.)
Garnish with fresh thyme sprigs or sauteed mushrooms.