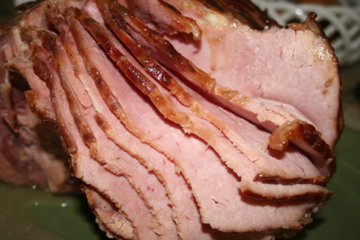 I love ham–well, anything from a pig, really.  Ever since I did my sugar detox a while back, where I also cut out all processed meats, I have avoided it. But for Easter, it's an easy addition to our spread. Last year, I was very pleased to see a Niman Ranch ham at Costco so I snatched up a big one! This year our nitrate-free  ham is from Door-to Door Organics. I hope you enjoy this simple recipe.
Adapted from www.food.com.
Honey-Mustard Glazed Ham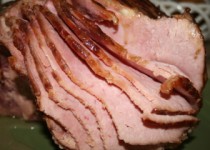 Be sure to bring your ham to room temperature before cooking to help it stay moist.

Prep Time:

10 minutes

Cook time:

01h 20min

Yield:

10 servings
Ingredients:
Preparation:
Preheat oven to 325°F.
Place ham, skin side up in a roasting pan. Bake, loosely wrapped in foil, for 20 minutes per pound of ham (about 1 hour and 40 minutes).
While ham cooks, whisk together honey, mustard, and juice in a small bowl.
Remove ham from oven and use a sharp knife to score fat in a diamond pattern.
Brush with honey glaze.
Return ham to oven and continue to bake uncovered for 20-30 more minutes, basting every 10 minutes with the pan drippings.