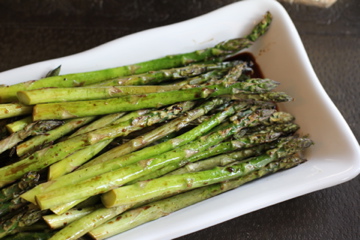 I am SO happy that asparagus is back in season! This is a family favorite recipe that we've enjoyed every Easter for years. It's easy to prepare and you can clean and trim the asparagus in advance. Be sure to use the best quality balsamic vinegar you can find. I have two favorites amazing aged balsamics. Both are 18-year aged balsamics: one is from The Olive Tap and the other from Oh, Olive! in downtown Libertyville. A great vinegar can stand alone—and is SO worth the investment!
I usually triple or quadruple the quantities for Easter. But don't save this recipe for the holidays, it's great any time. Enjoy!
Serves 4-6.
Roasted Asparagus with Balsamic Drizzle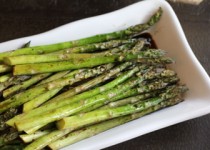 Prep Time:

5-10 minutes

Cook time:

20 minutes

Yield:

4-6 servings
Ingredients:
Preparation:
Preheat oven to 425°F.
Place asparagus in a large rimmed baking sheet.
Season with salt and pepper.
Drizzle with olive oil and toss to coat.
Roast for 15-20 minutes or until lightly browned.
Remove from oven, drizzle with balsamic, and toss to coat.
Transfer to a serving dish and serve immediately.