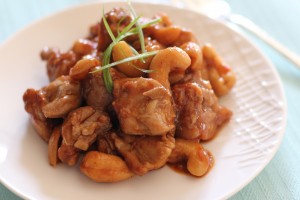 Well, after making Cashew Chicken last night, I couldn't wait to share the recipe. You'll see it again in my upcoming Meal Plan 50, but after you try it, you'll see why I couldn't wait. What really convinced me to post today is my children's response to this meal. So, let me set the scene: Josh has been sick for several days so he and I have been cooped up in the house and he has not been eating much. Aly has been doing everything in her power to get Josh's virus so she can miss school, too. Nice, huh?
Since I have not been to the grocery store in a while, I checked out my pantry and freezer to see what I had to work with. I've made this recipe several times over the past few weeks so I was happy to be able to thaw out some chicken thighs and make this quick meal with what I had on hand. And thanks to Door to Door Organics, I had a head of cauliflower to make the rice with. (I LOVE the convenience of home produce delivery, especially in times like this when I can't get to the store. I just placed my order for this week—it's awesome!)
Anyway, back to my story. I was excited to be able to whip together what has recently become one of my favorite quick meals.  As I was finishing the chicken, Aly posed the typical question, "What are the KIDS having for dinner?"
"Cashew chicken." I responded.
"No, I said the KIDS," repeated Aly.
"Cashew chicken, and you're going to love it!"
I got the typical overjoyed visual response (all you parents out there know exactly what I mean)…and then Josh walked by the stove. "Hey, Mom, is that like Chinese?"
"Yup."
"Can I try a piece?" he said. And while Josh tried it and declared the chicken to be good, I plated dinner and placed it on the table.
Fast forward about 8 minutes and I see Aly silently sneaking over to the stovetop and refilling her bowl with more chicken. I was cracking up that she went to such measures in her attempt to keep me from knowing that she actually LIKED  it!
Yes, this is my life.

And without further adieu, here's the recipe. Enjoy!
Cashew Chicken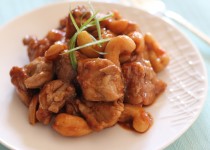 While testing this recipe, I made it first in the crock pot, then on the stovetop. I prefer the stovetop method. It is quick to make and you have better control over the liquids. The crock pot tends to water down the sauce.
This recipe uses Paleo Ketchup. Don't let it scare you off. It takes about 10 minutes to make and can be stored for several weeks in the fridge.
To make quick work of preparing the ginger and garlic, blend them for a few seconds in a Magic Bullet, blender, or food processor.
Prep Time:

15-20 minutes

Cook time:

20 minutes

Yield:

4-6 servings

Allergens: Nuts
Ingredients:
Preparation:
Cut chicken into bite-sized pieces.

Mix all sauce ingredients in a small bowl and set aside.

Warm coconut oil in a large, deep skillet or stock pot over medium-high heat. Brown chicken for about 3 minutes on each side.
While the chicken cooks, pulse the cauliflower in a food processor until it is a rice-like consistency. Transfer it to a microwaveable glass dish and add about 1 Tbsp water. Cover it and cook on high for 3-4 minutes or until tender. Keep warm.
When chicken is browned, carefully drain the liquid from the pan.
Add half of the sauce (about 1/2 cup) to the chicken and stir to combine. Cover skillet and continue to cook for 5-10 minutes or until the chicken is cooked through.
Add cashews and the rest of the sauce. Stir to combine. Serve over cauliflower rice.