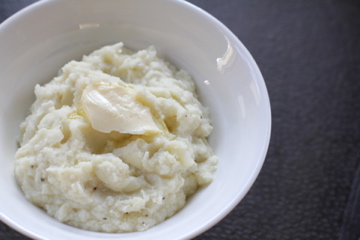 Mashed cauliflower is one of those super easy side dishes that tastes like you're eating something you shouldn't be eating. As a long-time mashed potato lover, I can state with all honesty that these really do taste like the real thing. And amazingly enough, they look like it, too. All from a head of cauliflower. I love that vegetable! Enjoy this with any protein, but it is particularly good with comfort foods like steak, roasted chicken, or pork tenderloin.
Cauliflower Mash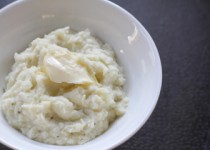 Prep Time:

25 minutes

Yield:

3-4 servings
Ingredients:
Preparation:
Place about 2 inches of water in a large pan fitted with a steamer insert. Add cauliflower pieces to insert and bring water to a boil over medium heat.
Cover pan and let cauliflower steam for 15 to 20 minutes or until you can easily insert a fork, but it still has some texture. It should not be completely falling apart.
Transfer cauliflower to the bowl of  a food processor. Add ghee or butter, salt and pepper, and about 1 Tbsp of the steaming liquid. Process until smooth, adding more steaming liquid until the cauliflower reaches your desired consistency.
Taste the mixture and add additional salt and pepper, if desired.