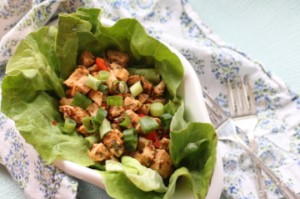 I love the flavor of chipotle peppers so when I came across this recipe, I had to give it a try. It is really easy to make and uses simple ingredients. I was a little overzealous in my use of chipotles so my nose was running as I finished my dinner. I've cut this recipe back a bit so that you don't suffer the same fate. but if you like nose-runningly spicy foods, up the number of peppers to three and see what you think!
Adapted from bevcooks.com.
Chipotle Chicken Lettuce Wraps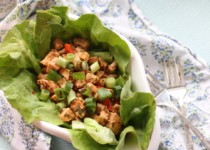 Prep Time:

10 minutes

Cook time:

15 minutes

Yield:

4 servings
Ingredients:
Preparation:
Dice red pepper and slice the green onions. Separate, wash, and dry lettuce leaves. Set aside.

Warm coconut oil in a large skillet over medium high heat.

Season chicken breasts with salt and pepper. Place in heated pan and cook for about 5 minutes on each side or until a nice crust forms and they are cooked through. Remove from pan and let cool for 5 minutes, then dice chicken.

While chicken cooks, place cilantro, lime juice, chipotle peppers, and adobo sauce in the bowl of a food processor. Process until smooth.

Transfer diced chicken, red pepper, and sauce to skillet. Toss together and warm over medium heat for 2-3 minutes.

Serve chicken mixture in lettuce wraps.