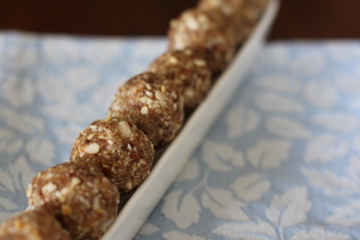 So, every recipe has a story, right? This recipe is dedicated to my CrossFit Freedom friend, Sarah. She has always been a huge Paleo Table supporter and is always ready to try out my new recipes and give me feedback—especially treat and bar recipes because, let's be honest, who doesn't like a good treat? I love the fact that Sarah makes my Sweet Potato Recovery Bars on a regular basis, and that her kids are even fans! That's more than I can say for my own!
Recently Sarah confessed her addiction to Lara Bars and asked me to come up with recipes for her favorite flavors so she could make them at home. She supplied me with the list of her top three flavors, along with their ingredients from the packages. I typically don't buy bars for myself, simply because making my own is so easy and I like to customize them to suite my tastes. However, I did go pick up the three flavors Sarah requested so I could taste them for myself.
For this recipe, I added a touch of vanilla to the ingredient list for a warm, creamy flavor.  I also formed the mixture into truffles instead of bars. The shape is not only easy to eat and transport, but it's also a great way to control your portion size. I am usually not a calorie counter, but for this recipe I figured out that with 16 servings, each truffle is 116 calories with 10 grams of sugar (from the dates). If you prefer to form this mixture into bars, simply press it into a pan, refrigerate until set, then cut and wrap them.
Not to toot my own horn, but these truffles turned out great…REALLY great. They not only got two big thumbs up from Sarah, but my daughter Aly liked them, too! And I can't forget to mention Ian, Sarah's partner in Lara bar addiction, who, after trying a sample, posted in a Cookie Monster kind of way on my Facebook wall: "Those coconut cream pie truffles were amazing!!!! Need more!!!! nom nom."
This is the first of three truffle recipes that will be coming your way. Sarah's next two favorites? You'll have to wait and see! Give these a try this weekend and let me know how you like them!
Coconut Cream Pie Truffles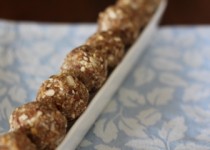 Prep Time:

15 minutes

Yield:

16 servings

Allergens: Nuts
Ingredients:
Preparation:
Place pitted dates and 1 Tbsp water in a small microwave-safe bowl. Cover with a plate and microwave for 45 seconds. Transfer to the bowl of a food processor.
Add remaining ingredients and process until the mixture begins to stick together but still has small chunks of nuts and coconut. You may need to pulse the mixture several times to ensure you get it to the right consistency.
Use a tablespoon to scoop out mixture, press together, and roll tightly in the palm of your hands to form a one-inch ball. Repeat to form 16 truffles. Refrigerate until set.
NOTE:  

I prefer to store these in the refrigerator. 

Because dates hold this mixture together instead of coconut oil, the truffles are stable enough to be easily portable.