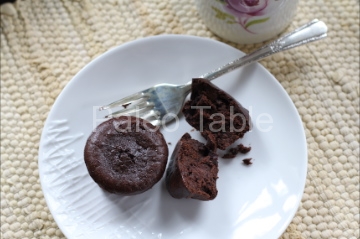 My little darlings have a special paleo radar that motivates them to reject any paleo baked goods before even passing their lips. Well, I keep on trying anyway, hoping that I can add to the very short list of healthy foods that they actually enjoy. These brownies are simple to make and uses a short list of ingredients. If you don't mind a more coconutty flavor, you can substitute coconut oil for the palm shortening. This treat contains more sweetener than I usually use. I added just a touch of honey on top of the coconut sugar to balance the bitterness of the cacao. I also added in chocolate chips to entice my children, although I think the brownies are plenty chocolatey without them. After tasting the final product, I realized that they actually weren't a kid's treat at all, but more of an adult-friendly flourless dark chocolate cake bite. They would go well with coffee, tea, or a glass of wine. Or even some almond milk. Next time I might try adding just a little more palm shortening to increase the moisture. I would love to hear what you think of these!
Adapted from Indulge by Carol Lovett.
Flourless Chocolate Cake Bites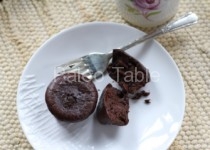 Prep Time:

10 minutes

Cook time:

10 minutes

Yield:

20 mini cakes

Allergens: Eggs
Ingredients:
Preparation:
Preheat oven to 350°F. (I used convection setting.)
Coat 20 mini muffin tins with palm shortening.
Whisk together dry ingredients in a large mixing bowl. Create a well in the center with a spoon.
Add wet ingredients to dry ingredients and use a hand mixer to blend to a smooth texture, about 3 minutes.
Stir in chocolate chips.
Scoop batter into muffin tins.
Bake for 10 minutes or until cooked through.
Remove from oven and let the brownie bites completely cool in the pan before eating.