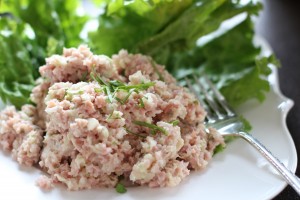 Don't let that leftover Easter ham go to waste! In just a couple of minutes, you can transform your leftovers into this classic ham salad.
When I was pregnant with Josh, I craved ham salad from our local Sunset Foods. I ate it so much that I asked my doctor if it was a problem. I love it! I rarely eat ham salad anymore, but I still love the flavor. It is simple to put together with leftover ham (just be sure it's all natural and nitrate-free). Today I'm using our leftover ham from Easter dinner. I could literally eat this stuff every day—it makes me HAPPY! I hope you like it, too!
Be sure to check back in on Tuesday for the big Primal Life Kit promotion!
Ham Salad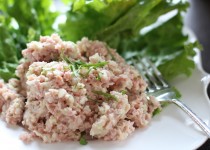 This recipe uses paleo mayonnaise. You can adjust the amount of mayonnaise and mustard to taste.
Prep Time:

10 minutes

Yield:

3 servings
Ingredients:
Preparation:
Place all ingredients in the bowl of a food processor. Pulse several times to chop and combine. Enjoy!