I hope you have been enjoying a week of clean eating. Here are some great meals to help keep you on track. There is no need to serve up boring or tasteless meals when you are living the paleo lifestyle. These recipes are YUMMY! Not too long ago, I posted the Cashew Chicken recipe, but it deserves an encore, so you'll see it again in this meal plan. One of my favorites, for sure! I am a big fan of lettuce wraps, so when we recently got two heads of butter lettuce in our Door-to-Door Organics box, I knew just what to make: Chipotle Chicken Lettuce Wraps. And just to make efficient use of the organic chicken I bought in bulk at Costco (a great way to buy chicken if you are on a budget), I made some amazing Enchiladas Verdes. I revamped my original recipe by using collard greens instead of coconut wraps. Not only are they more readily available, they pack a great nutritional punch, and they can withstand the heat of the oven. Collard greens are now my new favorite wrapper!
The Slow-Roasted Beef Brisket is AMAZING! It is my second attempt at making brisket (my first was an epic failure). This brisket is super easy, melt-in-your-mouth, finger-licking good! I HIGHLY recommend making it in the very near future. And it was even better with a simple side of Cauliflower Mash. They taste so much like mashed potatoes, it's crazy!
We rounded out the week with a revised version of Taiwanese Pork. I made this dish a while back and I don't remember it being a super star. Well, times have changed with this new version. It is quick, easy, and delicious. Give it a try with any ground meat you have on hand. The spices are so good!
I'm working on the shopping list and will have it posted by the end of the week. I hope you enjoy this meal plan!

Just a quick reminder that the latest e-book bundle will be on sale only through tonight. There's been a lot of interest in this bundle of books so Village Green Network graciously agreed to keep the sale open for an extra 24 hours (it was originally scheduled to close on Tuesday). Click this link or the graphics for more details. I'm well into reading Nourishing Our Children right now. What a great book about raising children to thrive! I am also psyched about starting to make some of my own household cleaners and body care products using info in the books Toxic Free and Skintervention. But, of course, its the dessert recipe books that will probably get the most use! On that note, I'm signing off to hunt down a new recipe for a great after school snack for my kiddos. Enjoy your week!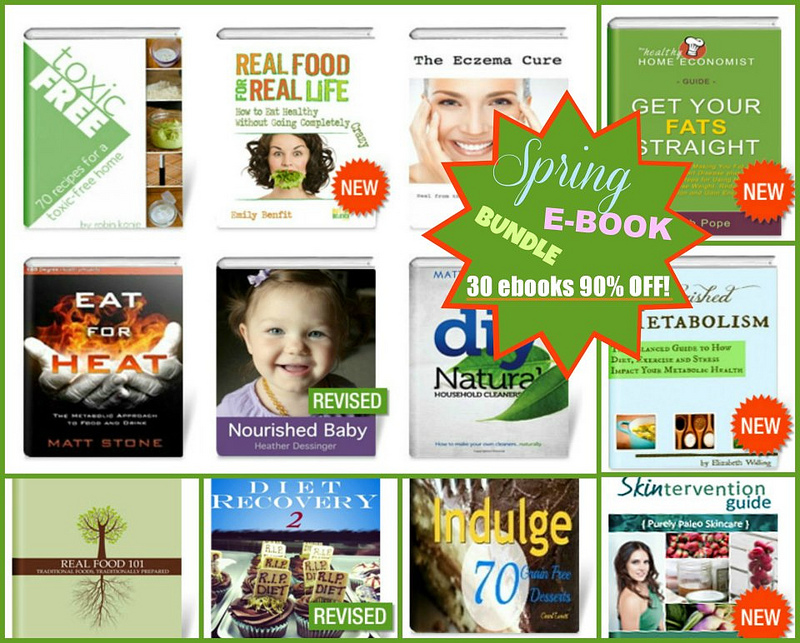 Oven-Roasted Beef Brisket
Cauliflower Mash
Chipotle Chicken Lettuce Wraps
Taiwanese Pork with Zucchini Noodles
Paleo Enchiladas Verdes
Cashew Chicken