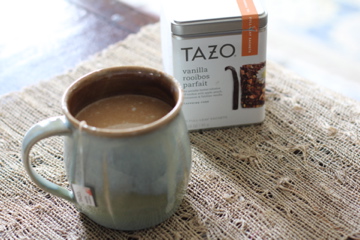 If you have been following Paleo Table for any length of time, you may know of my love for chai tea lattes (of course, that was in my past life…) Of everything I have changed since committing to paleo, cutting out my chai lattes has been one of the hardest. I continue to search for satisfying alternatives, and have found a couple of teas that have worked well. But usually, to really get the flavor I want, my paleo replacements require quite a bit labor and sometimes a large amount of honey to sweeten them up. Well, I recently tried Starbuck's vanilla rooibos parfait tea. You can get it hot at Starbuck's, or if you're lucky, they'll have the boxes of full-leaf sachets in stock and you can make it at home. The ingredient list is simple: rooibos, licorice root, blackberry leaves, cinnamon, apple pieces, peach pieces, vanilla extract, chamomile flowers. I recognize all of the ingredients, and they're all good!
Kudos to Starbuck's for keeping their tea clean. I also enjoy their passion tea, wild sweet orange, and refresh (mint) teas. I have checked the web sites of a couple of the bigger loose-leaf tea sellers (I won't mention any names) to see exactly what they put in their herbal teas. I've got to say that it floors me when something that is supposed to be healthy is pumped full of sugar and artificial flavors. It's tea, after all. Do you really have to add all that crap?
I really like Starbuck's vanilla rooibos parfait tea straight up, but when I'm in the mood for something warm and creamy, I punch it up with a little bit of honey, cinnamon, and coconut milk. If you are looking for a yummy drink that won't make you hang your head in shame (okay, maybe that's a little over-exaggeration, but you know what I mean), give this drink a try and let me know what you think. All quantities are to taste so play with them and find what's right for you. Enjoy!
One Good Cup of Tea: Vanilla Rooibos Latte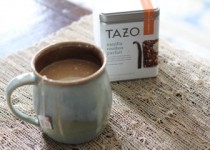 Feel free to use almond milk instead of the coconut milk. Or try it with no milk at all.
Prep Time:

6 minutes

Yield:

1 cup
Ingredients:
Preparation:
Spoon cinnamon and honey in the bottom of a tea cup. Add a teaspoon or so of hot water and mix to combine. This ensures that all of the cinnamon doesn't float to the top of your tea cup.
Place the sachet in the cup. Pour water over the sachet, stirring with a spoon to incorporate the honey mixture. Leave a little room at the top for the coconut milk.
Cover cup with a plate or coaster and let tea steep for 5 minutes.
Remove the cover and add coconut milk until the tea reaches your desired level of creaminess. Enjoy!