After your amazing response to the Primal Life Kit a couple of weeks ago, I thought I would offer you the opportunity to purchase the latest e-book bundle. I apologize that these promos came back to back, but I didn't have any control over the timing and I don't want you to miss out.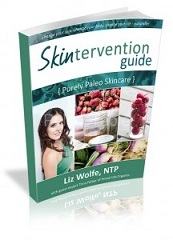 This bundle, offered by Village Green Network has the same pricing as the Primal Life Kit: 30 books for $39. You'll find a couple of the same books from the last bundle, but there isn't enough overlap to keep me from purchasing the bundle. There are lots of great books, but for me the highlight is Liz Wolfe's new book, Skintervention, which alone retails for $37. In her comprehensive guide, Liz (from Cave Girl Eats) covers not only the nutritional importance of different foods and how they impact your skin, but she also tells you exactly how to care for your skin naturally, regardless of its age or condition. I recently converted to natural skincare products and my skin thanks me for it every day! In Skintervention, I found ways to nourish my skin using products from my pantry. If you've been thinking about taking paleo one step further and nourishing your body from the outside as well as what goes in it, this book will tell you everything you need to know. (Can you tell I'm excited about it?!)
My other favorites are the home and body care guides: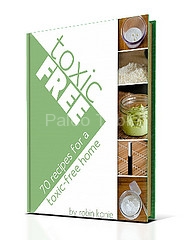 toxicFREE: 70 Recipes for a Toxic-Free Home, by Robin Konie, details how to create your own home care products—everything from bathtub scrub to glass cleaner to label remover. The author also goes into great depth on creating your own personal care products like bronzer, bug repellant, hair gel, and toothpaste.
DIY Natural Household Cleaners has totally inspired my all-natural spring cleaning by covering all of the household basics, room by room and surface by surface. I found the furniture polish, carpet care, and shower mold and mildew treatment especially helpful.
In addition to these three great books are a variety of cookbooks, natural baby and child care books, and books that offer great ideas for healthy lunch box foods as well as crock pot recipe ingredients you can prepare and freeze in advance.

Here are all 30 ebooks by category
Home & Garden
Garden and Preservation Planner ($12.95) by Brenda Scott of Well Fed Homestead
DIY Natural Household Cleaners ($9.99) by Matt & Betsy Jabs of DIY Natural
Your Custom Homestead ($4.99) by Jill Winger of The Prairie Homestead
Babies & Kids
Nourishing Our Children ($20.00) by Sandrine Love of Nourishing Our Children
Nourished Baby – REVISED ($20) by Heather Dessinger of Mommypotamus
Real Food Nutrition For Kids ($19.95) by Kristen Michaelis of Food Renegade
Skin, Beauty & Health
Simple Natural Health ($17.00) by Nina Nelson of Shalom Mama
Skintervention ($37) by Liz Wolfe of Cave Girl Eats
The Eczema Cure ($29.95) by Emily Bartlett, L.Ac. of Holistic Squid
Real Food & Grain-Free Cookbooks
Fast Paleo Top 100 of 2012 ($14.97) by James Gregory of Fast Paleo
The Grain Free Lunch Box ($24.95) by Jolene Sloam of Yummy Inspirations
Toadally Primal Smoothies ($10.00) by Todd Dosenberry of Primal Toad
Awaken: 30 Egg-Free & Grain-Free Breakfasts ($9.99) by Karen Sorensen of Living Low Carb One Day At A Time
Slow Cooker Freezer Recipes eCookbook ($9.99) by Stephanie Brandt Cornais of Mama & Baby Love

Kitchen Basics
Restocking the Pantry ($9.99) by Kresha Faber of Nourishing Joy
The Homemade Mommy Handbook ($14.96) by Lindsey Gremont of Homemade Mommy
Real Food Ingredient Guide by Kelly of Kelly the Kitchen Kop
Metabolism & Health
Eat For Heat ($9.99) by Matt Stone of 180 Degree Health
Real Food For Real Life by Emily Benfit of Butter Believer
The Nourished Metabolism ($24.98) by Elizabeth Walling of The Nourished Life
Get Your Fats Straight ($9.99) by Sara Pope of The Healthy Home Economist
Diet Recovery 2 ($9.99) by Matt Stone of 180 Degree Health

Sweet Treats
Indulge: 70 Grain-free Desserts ($24.97) by Carol Lovett of Ditch the Wheat
Grain-Free Sweets, Treats & Baking ($27) by Jennifer McGruther of Nourished Kitchen
Grain-Free Breads, Snacks & Desserts ($29.95) by Dr. Jill Tieman of Real Food Forager
The Almond Flour Sweet Treats Cookbook ($16.00) by Stacey Duncan of Nourished For Free
Indulge and Heal ($9.99) by Lauren Geersten of Empowered Sustenance
Afternoon Tea: Grain, Nut, Dairy and Refined Sugar-Free ($19.95) by Suzanne Perazzini of Strands of My Life

This great deal ends on Tuesday at midnight, so be sure to get your order in now. Don't miss out on this great deal!