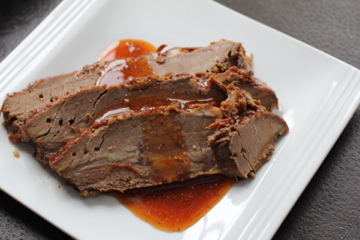 What do you do when you are house-bound with your sick child for 5 days? Well, if you are me, you take advantage of your time at home and slow roast a beef brisket. I've had this brisket in the freezer for a while now. The first brisket I made was a disaster. It was when we first got our smoker and were just getting things figured out. After smoking the brisket all day, we ended up with a shrunken, overcooked, tough piece of meat. SO not worth the effort of keeping the smoker going all day. (I know many people successfully smoke brisket all the time, I'm just not one of them.)
This time, I decided to go with a method similar to the one I use for ribs, low and slow in the oven. I seasoned the brisket overnight in the refrigerator and then added Worcestershire sauce before cooking. To ensure I didn't overcook the meat, I checked on it after 3 hours and continued to check until the meat easily pulled apart. My 5-pound brisket was tender in 4 hours, after which I added barbecue sauce and roasted it for another hour. For this recipe, you can use homemade barbecue sauce, but I used Bone Suckin' Sauce, my favorite paleo-friendly jarred sauce.
This brisket was SO, SO good! It reminded me of melt-in-your-mouth ribs, but with a lot more meat. This recipe is simple and delicious. If you are going to be home for the day, plan ahead and start this the night before. Take your comfy belly meal one step further and add some easy Cauliflower Mash to your plate. You'll love it!
Adapted from food.com.
Oven-Roasted Beef Brisket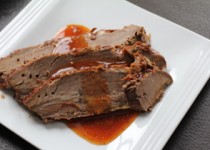 Remember that pastured beef cooks about 25 percent faster than conventional beef. Consider your beef type and size and adjust your cooking time accordingly.
Prep Time:

08h 15min

Cook time:

05h 00min

Yield:

8 servings
Ingredients:
Preparation:
Place brisket in the center of a large piece of heavy duty foil.

Pour liquid smoke over the meat and turn to coat.

Combine sea salt, garlic powder, onion powder, celery seed, and pepper in a small bowl. 

Sprinkle evenly over both sides of brisket and use your hands to press the rub into the meat.

Wrap the foil tightly around the brisket so that it is completely covered. Refrigerate overnight.

About 5 1/2 hours before serving, place the wrapped brisket on a large, rimmed baking sheet. Open the foil. Season with additional salt and pepper and pour the Worcestershire sauce over the meat. Reseal the foil.

Preheat oven to 275ºF. (Use an oven thermometer to ensure the temperature accuracy.) Transfer the brisket on the baking sheet to the middle rack of the oven and roast in the foil packet for about 4 hours (for a 5-pound brisket). Carefully remove brisket from the oven. Open the foil and fold the sides until it looks like the brisket is in a foil pan. 

Pour barbecue sauce over the brisket. Leave packet open and return meat to the oven. Bake for an additional 1 hour. Remove from the oven and let rest for 20 minutes before slicing.

Serve with the barbecue pan juices on the side.