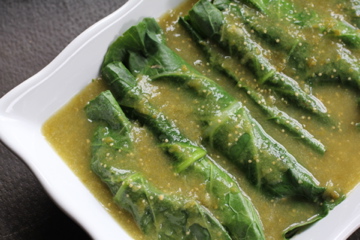 Well, after getting great results using collard greens to wrap some cabbage rolls, I knew I had to try them with my enchilada recipe. For my original post in Meal Plan 26, I used  Pure Wraps coconut wraps. They were great! The wraps come raw and do not do well at high temperatures, so I warmed up the filling first, then wrapped the enchiladas and baked them for only 5 minutes at 350ºF. The collard greens can withstand the heat, so I modified the recipe so that the insides do not require preheating.
The sweet potato mixed with paleo mayonnaise and coconut milk gives these a nice, creamy texture. They were so good, we didn't even miss the cheese! The salsa verde is from scratch because I couldn't find a clean one at the grocery store. If you can, feel free to substitute. But if not, this one is very easy and can be done at the same time you are making the filling. I made this recipe in the morning, poured on the salsa verde, and refrigerated it until I was ready to cook. It turned out perfect! Give it a try and let me know what you think!
Paleo Enchiladas Verdes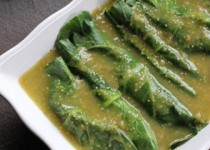 Prep Time:

60 minutes

Cook time:

20-30 minutes

Yield:

8 servings
Ingredients:
Preparation:
For salsa verde, place all ingredients in a medium sauce pan. Bring to a boil over medium heat, reduce heat, and simmer for 15 minute or until tomatillos are soft. Cool slightly and transfer mixture to bowl of food processor. Process until smooth. Return mixture to the pan and simmer until reduced to 2 cups, about 5 minutes.
Preheat oven to 350ºF.
To prepare enchilada filling, combine chicken, onion, and cilantro in a large bowl.
Place chicken stock, mayonnaise, coconut milk, sweet potato, and lime juice in a small bowl. Use a whisk to combine into a creamy texture. Season with cumin, salt, and pepper and stir until well combined.
Add wet mixture to chicken mixture and stir until well combined.
Trim long stems (not the center of the leaf) of collard greens and place leaves in a large microwave-safe bowl. Put about 2 Tbsp water in the bowl and cover with an inverted plate so no air escapes. Microwave for 1-2 minutes or until leaves are just wilted. (Do this in batches, if necessary.) Let cool slightly and drain on paper towels.
Spoon about 1/2 of enchilada verde in the bottom of a small baking dish.
Scoop about 1/2 cup of filling diagonally across each collard leaf. Roll and arrange seam-side-down in baking dish. Top with remaining salsa verde.
Bake for 20-30 minutes or until just warmed through. Remove when salsa is bubbly. Enjoy!
NOTE: If you are using coconut wraps, warm the filling in microwave or in a medium pan on the stovetop, then reduce the cooking time to 5-10 minutes.