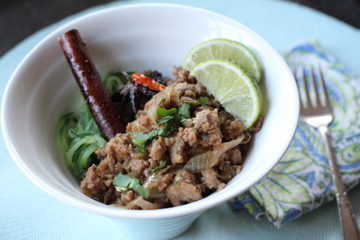 This is a new and improved version of Taiwanese Pork that takes less effort and is more flavorful than my original post.  I happened to have some bacon fat, which I'm sure enhanced the flavor of the dish, but coconut oil would work just fine. The pork mixture is seasoned with a cinnamon stick and star anise, along with garlic and shallot. Add a little honey, coconut aminos, and vinegar, and this quick meal will definitely leave you wanting more and more and more! Between us, Dave and I ate the entire pound of pork, so if you are feeding a crowd, double the recipe. This is a quick and easy weeknight meal that could easily become part of your normal rotation. Don't have ground pork? Try substituting ground turkey or chicken. Please post a comment to let me know how you like this yummy dish!
Taiwanese Pork with Zucchini Noodles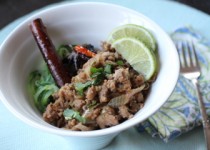 Don't have ground pork? Try substituting ground turkey or chicken.
Prep Time:

10 minutes

Cook time:

20 minutes

Yield:

2-3 servings
Ingredients:
Preparation:
Combine aminos, vinegar, water, and honey in a small bowl, stirring with a whisk to combine. Set aside.
Warm bacon fat or oil in a large skillet over medium-high heat. Add shallot, garlic, cinnamon stick, and anise, and saute for one minute, stirring to ensure the garlic doesn't burn.
Crumble pork into pan and saute until it is cooked through, 5-10 minutes.
Add coconut aminos mixture, stir, and reduce heat to medium. Simmer until almost all of the liquid is reduced, about 10 minutes.
Serve over zucchini noodles and garnish with cilantro and lime, if desired.
Zucchini Noodles
Bring water to a boil in a medium saucepan over medium-high heat. Add zucchini noodles and boil for about 3 minutes or until tender but not mushy. Carefully transfer to a colander and drain thoroughly.
Adapted from steamykitchen.com.