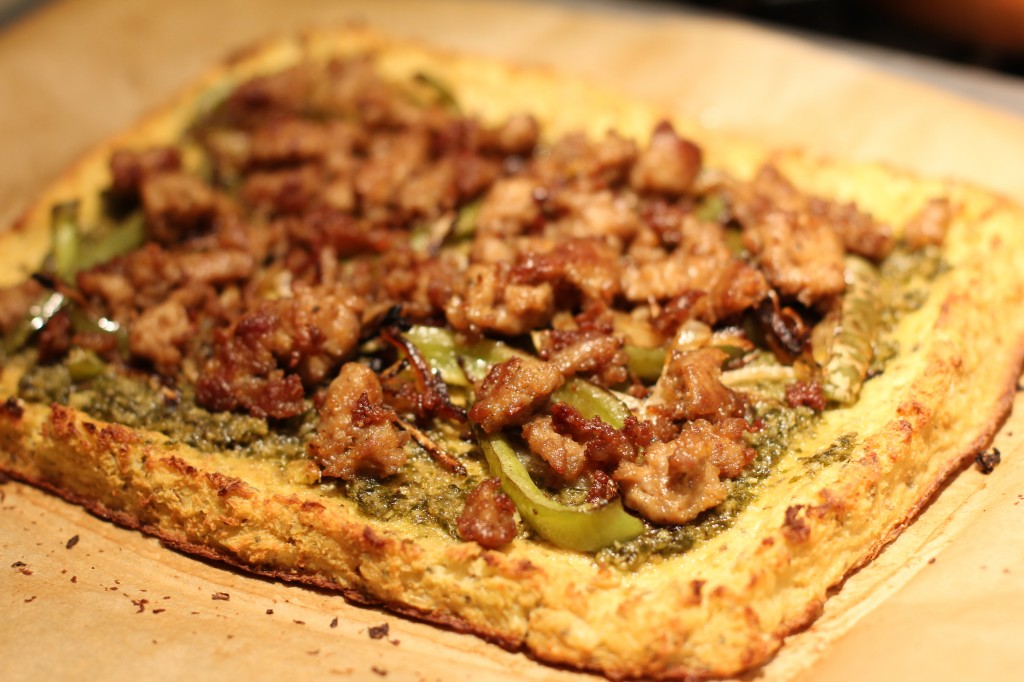 Friday nights were always pizza night at our house when I was growing up. It was a great way to end the week and the pizza was always so good! Well, since adopting the paleo lifestyle, I've tried many different versions of pizza, minus the cheese and grains. Some attempts have been more successful than others. These days, when I want pizza, I typically go with a meatza. But this week I decided to try making a cauliflower pizza crust. I am already convinced that cauliflower is one of the most versatile foods around. And this recipe convinced me even further. If you are looking for a crust that can hold up on its own, and for a slice of paleo pizza that you can actually pick up in your hands and eat, this is your lucky day.
The key to getting this crust to crisp is to thoroughly dry the cooked cauliflower before mixing it in with the remaining ingredients. I added a little bit of almond flour for texture, but if your mixture isn't too wet, you could easily omit it for a nut-free crust. When preparing the cauliflower, pulse it in the food processor until it resembles wet sand, a bit smaller that if you were preparing cauliflower rice. Give this a try and let me know what you think!
Cauliflower Crust Pizza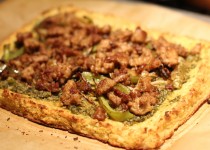 Ingredients:
Preparation:
Preheat oven to 400°F. Line baking sheet with parchment paper.
Cut cauliflower into large pieces. Place them in the bowl of a food processor and pulse until the cauliflower resembles the texture of wet sand.  Transfer to a medium saucepan and cover with water. Bring to a boil, then cover, reduce heat, and simmer for 5 minutes.
Drain cauliflower in a mesh colander, then transfer to the center of a cotton dish towel or cheesecloth. Twist closed  and cover the bottom with another dishtowel to protect your hands from the heat of the cauliflower. Wring the cloth to squeeze as much liquid as possible from the cauliflower. Transfer dried cauliflower to a medium bowl.
Add eggs, garlic powder, oregano, and sea salt. Stir to combine. Add almond flour, if needed, to hold mixture together.
Transfer to parchment-line baking sheet and press mixture together, gently pressing down the center and forming a raised crust on the edges.

Bake for 30-40 minutes or until  nicely browned.

While crust bakes prepare toppings. Cook sausage in a large skillet over medium-high heat, transfer to a dish, then saute the onions and peppers together in the same pan.
Remove crust from oven. Brush with pesto, then add sausage, peppers, and onions. Return to oven and bake for 15 minutes.
Slice into four pieces, pick it up, and enjoy!