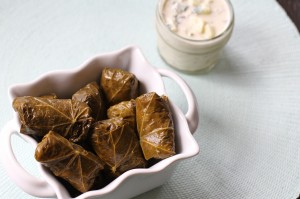 Here's a little history for you: According to wikipedia, "Dolma is a verbal noun of the Turkish verb dolmak, 'to be stuffed', and means 'stuffed (thing)'. Dolma is a stuffed vegetable, that is, a vegetable that is hollowed out and filled with stuffing…Dishes involving wrapping leaves such as vine leaves or cabbage leaves around a filling are called , though in many languages the distinction is usually not made."
More than you wanted to know? Well, let's get to the good stuff then. Read on for a great recipe inspired by my friend Cesar. He's not Greek or Turkish, at least that I'm aware of, but he does make some mean dolmas. He brings these to church sometimes to share after our service. While Cesar's dolmas are stuffed with rice and lamb, I use cauliflower rice. I think he'll be proud.

I thought this recipe would be perfect to share for the upcoming Greek Easter.
I made this dish, at my husband's brilliant suggestion, to highlight to importance of using a top quality olive oil like Kasandrinos Extra Virgin Olive Oil. I only discovered Kasandrinos recently and it is now my favorite oil to use in salad dressings, pesto, or any recipe—like this one—that benefits from a flavorful, robust oil. (Click here to learn about how you can enter for the chance to win some free EVOO!)
These dolmas are easy to put together, but it does take some time to roll up these tiny packages of goodness. Dolmas are excellent party fare not only because they taste awesome and easy to handle, but they can be made in advance and refrigerated. They could probably also be frozen, but I havent' tried that yet. Enjoy!
Dolmas (Greek Stuffed Grape Leaves)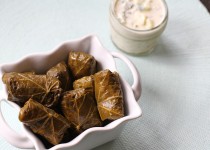 Prep Time:

60 minutes

Cook time:

10 minutes

Yield:

28 dolmas
Ingredients:
ground lamb -

1 pound

cauliflower -

one small head or 1 1/2 cups, grated

medium yellow onion -

1, minced

lemons -

2-3, juiced

flat-leaf Italian parsley -

2 Tbsp, finely chopped

fresh mint -

2 Tbsp, finely chopped

garlic cloves -

1, minced

sea salt -

to taste

freshly ground black pepper -

to taste

Cucumber Dipping Sauce
paleo mayonnaise -

1/2 cup

unsweetened full-fat coconut milk -

1/4 cup

apple cider vinegar -

1/2 tsp

freshly squeezed lemon juice -

1/2 tsp

fresh mint -

1 tsp, minced

flat-leaf Italian parsley -

1 tsp, minced

garlic cloves -

1, minced

cucumber -

1/2 medium, peeled and diced
Preparation:
Preheat oven to 400°F.
Pulse cauliflower in a food processor until it reaches a rice-like consistency. Transfer to a large, rimmed baking sheet, drizzle with about 1 Tbsp olive oil, and toss to coat.
Place in oven, then drape a folded dishtowel over the top of the oven door to allow steam to release. Roast for about 20 minutes or until slightly toasted, stirring once or twice to ensure even toasting. Cool and transfer to medium mixing bowl.
While cauliflower is toasting, brown lamb, onion, and garlic in a large skillet over medium heat. Transfer to the mixing bowl.
Pulse parsley and mint in a food processor until minced and add to the lamb mixture.
Whisk together lemon juice and 1/4 cup Kasandrinos Extra Virgin Olive Oil. Pour 1/2 of the mixture into the lamb mixture and stir to combine. Taste and season with salt and pepper.
Rinse grape leaves in a colander.
Lay grape leaves shiny side down with stem towards the top of a flat work surface used to roll the Dolmas. Use a spoon to scoop a scant teaspoon of the mixture at the lower point of the leaf. Start to roll up from the bottom towards the top, folding the sides of leaf inwards to close over both ends before finishing the roll.
NOTE: This will come easier as you do a few. It's like rolling a tiny tamale or cabbage roll.
Place rolls, seam side down, in a glass baking dish. When all dolmas are rolled, baste generously with lemon olive oil mixture.
Bake for 10 minutes or until warmed through. Baste dolmas again once you remove them from the oven. Serve with cucumber dipping sauce.
Cucumber Dipping Sauce
Combine all sauce ingredients in a small bowl.