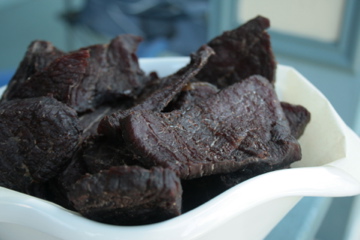 Beef jerky is a great grab-and-go snack that is easy to prepare. My favorite cut of meat for jerky is top round roast—grassfed, of course. It has very little fat and results in a nice jerky. You can use different cuts such as flank steak. I've tried a few different recipes, but this one, by far, is my favorite. I marinade the sliced beef overnight and dehydrate it the next day. If you don't have a dehydrator, you can order the one I use through my Amazon store. It's not expensive and it works great. Otherwise, you can try dehydrating it in your oven set to 160°F. Enjoy!
Adapted from humansarenotbroken.com.
Easy Beef Jerky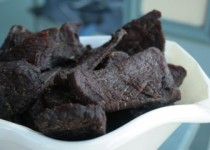 This recipe uses paleo Worcestershire sauce.
Prep Time:

01h 20min

Cook time:

04h 00min

Yield:

2 pounds
Ingredients:
Preparation:
To enable you to make thin slices, place your roast in the freezer for one hour. Sharpen your sharpest chef's knife.
While meat becomes firm, whisk together all marinade ingredients in a large bowl or lidded container. (I use glass Snapware.)
When meat is ready, use the sharp knife to trim off any excess chunks of fat on the surface of the meat. Then slice the meat across the grain in very thin slices. If the slices are really big, cut them to a more snackable size, keeping in mind that they will shrink up in the dehydrator. As you slice the meat, put it in the marinade.
When all of the meat is sliced, either gently toss the meat with the marinade, or securely cover the bowl and shake it to evenly distribute the marinade on the meat. Refrigerate, covered, for six hours or overnight, shaking occasionally.
Before you are ready to dehydrate the meat, pour it into a collandar and rinse with warm water. Transfer the meat to the dehydrator and arrange in a single layer. I usually use two or three trays for one roast.
Sprinkle with red pepper flakes or freshly ground black pepper, if desired. For a milder jerky, omit this step.
Check your dehydrator for the proper temperature setting for jerky and set the dial to that temperature. Mine is 160°F. Dehydrate for about four hours or until the meat develops a crust that cracks when bent. It may take a couple of tries to determine the texture you like best.
Store in the refrigerator in an airtight container lined with paper towels to absorb any excess moisture. Jerky can be stored for several weeks.