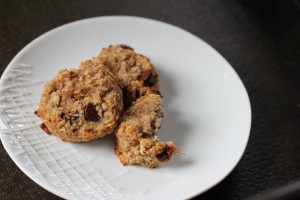 My friend Nicki from CrossFit Freedom passed along a two-ingredient cookie recipe to me recently. It consisted of bananas and oats, and Nicki wanted me to make it paleo. I thought about different ways to get a great flavor, but still have some of that oat-y consistency. I ended up pulsing almonds in my food processor until they formed a flour with some chunks of nutty goodness. When I mixed it with the bananas, it was clear I needed something to absorb the liquid from the mashed banana, so I just added a touch of coconut flour. That fixed it right up. There's no excuse NOT to make these cookies. They are so good and super fast to make. I have made two batches of these so far and after sharing a batch with Nicki, she gave them the big thumbs up and ensured me that they freeze well, too. Thanks, Nicki!
Oh, I added some cinnamon and chocolate chips to my batches, just because I have a hard time letting things be so simple. You can choose to add these, leave them out, or add some dried fruit or nuts instead. The fruit and nuts would turn these into a great breakfast cookie. Enjoy!
Three-Ingredient Cookies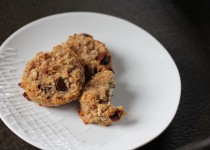 The bananas I used were yellow but very spotty. If you use very ripe bananas, you may need to add a little more coconut flour to absorb the excess moisture.
Prep Time:

5 minutes

Cook time:

15 minutes

Yield:

12 cookies

Allergens: Nuts
Ingredients:
Preparation:
Preheat oven to 350°F.
Mash bananas in a medium bowl. Add chunky almond meal and coconut flour and stir until you can form a dough that will hold together when scooped. Add optional ingredients, if desired.
NOTE: If your bananas are very ripe, you may need to add a little more coconut flour to absorb the added moisture.
Use a cookie scoop or spoon to scoop 12 cookies onto a parchment-lined baking sheet. Gently press down on the cookies with your fingers to flatten a little bit.
Bake for 15 minutes or until bottom of cookies are nicely toasted and the top is somewhat firm.
Store at room temperature in an airtight container for 2-3 days or freeze and thaw just before eating.