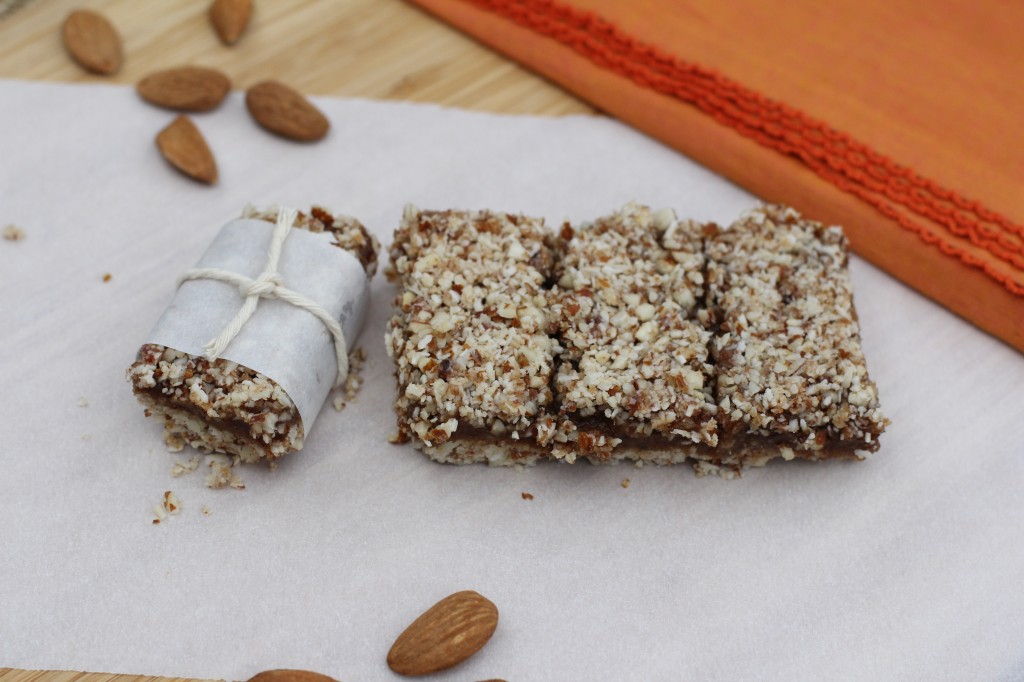 As a kid, my mom used to make date bars as a treat. It was a quick boxed mix, but it was SO good! I loved the sweet and crumbly goodness of those little bars! More recently, my brother-in-law John whipped up a batch from scratch. They were as delicious as I remembered them, but definitely not paleo. I've been craving a date bar ever since. Dates are a sweet treat that also help nutty truffles and bars stick together. I like making date paste to sweeten baked goods like my Sweet Potato Recovery Bars.
These date bars are delicious AND paleo, plus it uses simple ingredients and you don't even have to turn on your oven! The sweet gooeyness of the bars comes solely from dates, and the crumbly texture from almonds and coconut. When you bite into one, you will wonder how this can be good for you. Well, as I'm sure you know, a treat is still a treat. So while I didn't feel too bad about eating two bars last night, I'd still feel bad if I gobbled up the whole pan of them. Well, I'd feel good while doing it…but bad later. Maybe. Anyway, my point is that dates still contain a lot of natural sugars. But don't let that keep you from making them! They are SO worth it!
The bars need to set in the refrigerator for one or two hours. They hold together well; but because of the gooey center, these are not really firm bars and the topping is crumbly. If you want a firmer bar, maybe to pack in your lunch or for a portable snack, simply add a few more dates or a little more coconut oil to the crust. I hope you enjoy this sweet, gooey, and delicious treat!
Adapted from ktotheb.com.
Date Bars (Raw)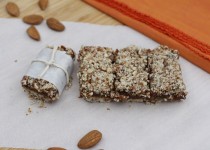 Prep Time:

20 minutes

Yield:

16 squares

Allergens: Nuts
Ingredients:
Preparation:
Line 8x8 or 9x9 pan with two sheets of parchment paper that are overlapped so that all surfaces are covered.



Combine crust ingredients in the bowl of a food processor and process until the mixture is finely chopped and somewhat sticky. If the mixture does not hold together when pressed, add a few more dates or a bit more coconut oil until it holds. Transfer mixture to a large bowl.

Place filling ingredients in the food processor and process until smooth. Add more water if needed to reach a creamy consistency.

Transfer baking dish to the refrigerator and chill until set, about 1-2 hours. Cut into squares and store in the refrigerator.