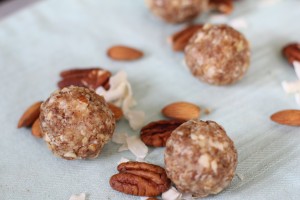 I originally posted this recipe in May 2012, after receiving a great comment from Tracy who suggested rolling raw paleo crunch ingredients into balls and popping them in the fridge to firm them up. I thought it was a great idea, but when I started making the paleo crunch balls, I was inspired to shake it up just a little bit so I could cut out the honey and reduce the amount of coconut oil. I'm currently on a date paste kick–it is my new favorite way to sweeten. I also decided to use the plethora of nuts that I had on hand, but you can certainly substitute the combination of nuts and seeds that works for you. Just make sure the overall quantities are the same. Because this recipe requires no baking, I was able to further cut back on some of the ingredients from the original recipe. Be sure to store these in the fridge to ensure they don't crumble. Alex said the flavor reminds him of cinnamon rolls. If you've ever dipped into the raw paleo crunch ingredients before you popped it the in the oven, you'll love this recipe! And if you've never tried my Paleo Crunch…what are you waiting for? Now you have two options: baked and granola-like or a raw portioned treat. You really can't go wrong! A true testament to the awesomeness of this recipe is that my children actually like them! If you've been following Paleo Table, you know that's VERY unusual since they are incredibly picky and paleo-averse.
Oh, and I have to mention that I decided NOT to drizzle or dip these in chocolate so I could keep them clean. But if you want a decadent treat, they would taste even more incredible with a little drizzle or dunk of dark chocolate. (For those of you from Ohio, think paleo Buckeye.) Give these a try and let me know what you think!
Paleo Crunch Balls (Raw)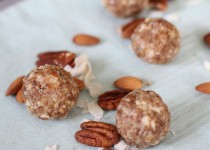 Prep Time:

30 minutes

Yield:

28 one-inch balls

Allergens: Nuts
Ingredients:
Preparation:
Place dates and water in a small bowl. Microwave for 40 seconds.
Transfer mixture into the bowl of a food processor and process until smooth.
Add coconut oil, almond butter, vanilla, cinnamon, and salt. Process until smooth, scraping down the sides, as necessary.
Add nuts and coconut. Pulse several times until a thick, chunky paste forms.
NOTE: I have a large food processor. If you don't, you can transfer the liquid to a large bowl, chop the nuts in the processor, then mix the wet and dry ingredients together in the bowl.
Use a small cookie scoop or teaspoon to scoop out enough of the mixture to form a 1-inch ball. Use the warmth of your hands to roll and compact the mixture into a tight ball.
NOTE: If the mixture does not press together for you, return it to the bowl, add a little more coconut oil, and pulse a couple of times to integrate. You don't want these too wet; just moist enough to hold them together until you can refrigerate them.
Form 28 balls and place them on a cutting board or another flat surface. Transfer the balls into the refrigerator. Cool for 1 hour or until very firm.
Transfer balls into an airtight container and store in the the refrigerator.