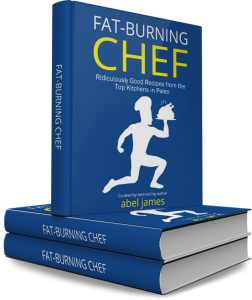 I am so excited to announce the release of an awesome new e-cookbook entitled, "Fat-Burning Chef, Ridiculously Good Recipes from the Top Kitchens in Paleo."
"Why is it so awesome?" you may ask. Well, first, because it is my very first paleo cookbook collaboration. When the people from the infamous Fat-Burning Man web site and podcast reached out to me a few months ago, I spent some time researching what Abel James, THE Fat-Burning Man is all about. Sure, I'd heard of him, but after checking out his top-rated podcasts, videos, and web site, I knew why he was so well respected in the paleosphere. He has no qualms about admitting to his love of desserts, but just one look at his abs makes it clear that he knows how to treat his body to get the best possible results.
So, to make a long story short, I was in…along with paleo greats like Melissa Joulwan, George Bryant, Juli Bauer, and Liz Wolfe, just to name a few. After reviewing my advance copy today, I quickly whipped up a batch of Cookie Dough Truffles, complements of Alyson Bridge from GluteFreeEats.com. I just tried a sample from the fridge and I am pretty sure they are even going to pass the Aly test! Whoo hoo! Tomorrow, I'm making the Buffalo Ranch Chicken Meatballs, and later in the week, the Bacon-Wrapped Chicken Thighs. Sounds awesome, don't you think? I can't wait!
The 169-page book is neatly organized into the following sections:
Breakfast
Snacks-Sides-Appetizers
Soup Recipes
Beef Entrees
Pork Entrees
Poultry Entrees
Seafood Entrees
Decadent Desserts
Something for everyone!
This week only, you can purchase this collaboration from more than 20 of the top paleo bloggers—for only $27 (next week the price goes up to $47) AND get $100 in bonuses!. Just click HERE, or on the image below, to get all the details from Abel James himself. Plus find out how to win a brand new iPad or a $100 Amazon gift card, just by ordering The Fat-Burning Chef right now!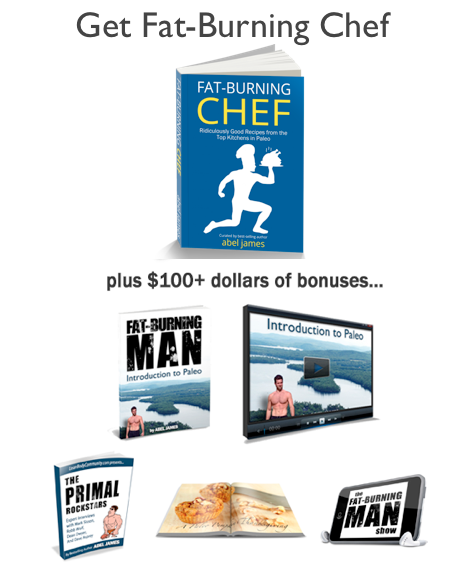 Show yourself some love, show your family some love.
Buy the book, get in the kitchen, and cook up some fabulous paleo food today!