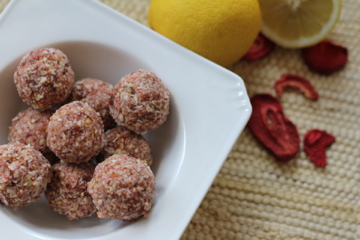 You may recall from my Coconut Cream Pie Truffles post in April, my friend Sarah requested that I recreate her three favorite Lara Bars. Round 1, the Coconut Cream Pie Truffles, were a big hit. Now I'm on to Round 2. Today is a steamy hot  and humid day in Chicagoland and I was in the mood to create a no-bake treat, so I messaged Sarah and my other Lara Bar-loving friend Ian asking them to prioritize the remaining two flavors from Sarah's original request. Well Ian, being the sweet and easy going guy he is said they both sounded good. No help at all, right?! (Sorry, Ian!) Then Sarah, with her strong-minded, take-charge approach, piped in with "Lemon, lemon!" But it didn't stop there. Next I get "Blueberry lemon?!". Then "Raspberry lemon?". I love a woman with ideas!

What I ended up creating were these delicious strawberry lemon truffles, but you could easily modify them to be raspberry or blueberry or even pineapple; I just didn't have those ingredients on hand. The secret to the berry-licious flavoring is freeze-dried unsweetened and unsulfured fruit. I just happened to pick up a bag at Trader Joe's this morning, but I've also seen them at our local grocery store. There are several varieties of fruit to choose from and each of them has only one ingredient: the fruit. If you have never seen freeze-dried fruit, unlike dehydrated fruit, you can crumble it right up in your fingers. It is very simple to process to a powder form. And its concentrated flavor makes it a perfect flavor component.
These truffles are really easy to make. I prefer to roll the mixture into balls to appropriately portion out the servings, but you could just as easily press the mixture into a rectangle and cut them into bars, if that's the way you roll (or don't roll, as the case may be). They are easily portable, but be sure to keep them cool or they may crumble. (Just don't do something like leaving them in a hot car all day and they should be okay.) I store mine in the refrigerator. Enjoy this as a special treat or as pre or post-workout fuel!
Berry-Lemon Truffles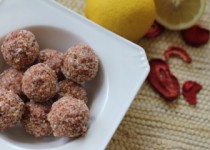 Prep Time:

15 minutes

Yield:

16 servings

Allergens: Nuts
Ingredients:
Preparation:
Place freeze-dried fruit in the bowl of a food processor and process until powdered.
Place pitted dates and 1 Tbsp water in a small microwave-safe bowl. Cover with a plate and microwave for 45 seconds. Transfer to the food processor bowl.
Add remaining ingredients and process until the mixture begins to stick together but still has small chunks of nuts and coconut. You may need to pulse the mixture several times to ensure you get it to the right consistency.
Use a tablespoon to scoop out mixture, press together, and roll tightly in the palm of your hands to form a one-inch ball. Repeat to form 16 truffles. Refrigerate until set.
NOTE:  I prefer to store these in the refrigerator. Because dates hold this mixture together instead of coconut oil, the truffles are stable enough to be easily portable.