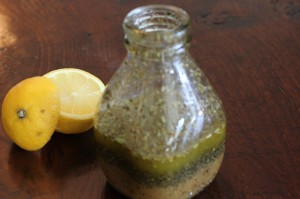 I always laugh to myself when someone says, "I have the best chicken recipe! Just marinade it in Italian dressing and grill!" Well, it's no secret that most commercial Italian dressings are full of ingredients that I have no intention of allowing past my lips. So I decided to put together an Italian vinaigrette and give that chicken recipe a try!
Dave and I are going to an outdoor concert tonight with some friends so I am marinading and grilling chicken, slicing it up, then topping it off with some tomatoes, basil, olives, and avocado. Easy, yummy, and filling! And it all begins with this dressing.
I used white balsamic vinegar because that's what I had on hand. You can definitely use your favorite vinegar and play with the spices until you find the flavor that's perfect for you. This is really great as a marinade or a salad dressing. It would be a tasty addition to your Independence Day picnic plans! Enjoy!
Paleo Italian Dressing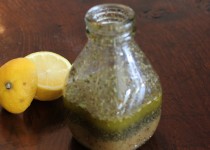 Ingredients:
Preparation:
Combine all ingredients in a lidded jar and shake to combine. You  can also whisk ingredients together in a mixing bowl if you prefer.
Store in the refrigerator. Take out about 15 minutes before using.