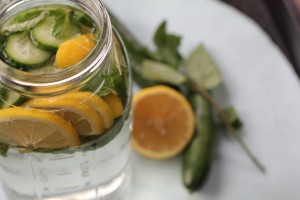 Well, those of you who follow me on Facebook already know that I started a 21-day cleanse today. The cleanse I'm doing is inspired by The Virgin Diet, a book by JJ Virgin who, while not strictly paleo, is a big advocate of healthy eating. The elimination diet she describes in her book is a way to identify foods that may be wreaking havoc with your body by causing inflammation or lowering your immune system. This concept is not unique. In fact, it is very nicely explained by Neely Quinn in her Paleo Plan e-book entitled 21-Day Paleo Cleanse. In the book she describes the details of what foods should be eliminated and why. She also includes meal plans and recipes for all 21 days. If you want a little more hand-holding than what I am offering, I recommend you click on the link above to download the book. (There is nothing in it for me, I just think it's a great book.) You can get comprehensive meal plans and shopping lists for every meal and snack for 21 days, as well as some great background and planning info.
So this cleanse, for me, is just to reset my body into healthy mode after an indulgent vacation. If you want to join me, you can take whatever part of this works for you. If you do not have any health issues, maybe you decide to keep in the caffeine or the nuts. Whatever works for you. I love my eggs, nuts, and peppers. I've never tried to give them up. But I am looking forward to seeing if any of these foods is negatively impacting my body in ways I'm not even aware of.
Even though I lead a healthy paleo lifestyle, I do find myself veering off in the wrong direction sometimes. But just a little bit. Then we went on a family vacation to England, with a little hop over to Paris for a couple of days. We had been planning this journey for a long time and I had full intentions of going into it at a deficit—a few pounds lighter than usual—so that I could immerse myself in the local cuisine and not come home feeling, well…the way I feel now.

Well, that didn't happen. And when I got home, I bought a scale for the first time ever…just to be able to measure my results. I found that I weighed pretty much the same as what I figured I weighed when we left for vacation. Maybe 2-3 pounds heavier. But I'm definitely not at an ideal place, so I decided it's time for a cleanse.
I've done the 21-day sugar detox, which was great for busting sugar cravings. But this time, sugar cravings aren't my issue. My body is just yearning for a detox from two weeks of eating and drinking things that taste oh-so-good, but are not good for me. My joints are achey, my belly is bloated, and my skin is a bit off. Not quite as bad as my pre-paleo days, but bad enough for me to take these measures.
If you are feeling like me after a summer of fun and are ready to give your body a break, here are the basic guidelines I'm following for this cleanse:
What You Can't Eat
I am following the strictest paleo guidelines by excluding these foods from my diet:
Grains
Beans and legumes (including peanuts and soy)

Green beans in the pod, sugar snap peas, and snow peas are allowed.

Sugar (refined, artificial, or natural)

No raw honey, maple syrup, coconut sugar or nectar, agave, stevia, etc.
Fruit and dried fruit is allowed, but if you trying to lose weight, limit your fruit intake. As always, lower-sugar fruits, such as berries are preferable to high-sugar fruits like bananas.

Dairy

Even pastured butter and ghee are out for this cleanse

Alcohol
Vegetable oils

Stick to coconut, palm, and olive oils, plus lard and tallow
To take this a step further, I am eliminating these additional highly inflammatory foods:
Eggs
Nightshades, including potatoes, tomatoes, sweet and hot peppers (jalapeno, paprika, cayenne, etc.), and eggplant (sweet potatoes and yams are okay)
Nuts and seeds, including oils and butters derived from nuts and seeds
Caffeine
What You CAN Eat
Now, you may at this point be saying, "No way! What's left?!" Well, it's not all that bad. If you choose to join me in this cleanse, we will be enjoying our share of:
Meat – preferably pastured and free-range

Beef, bison, pork, chicken, turkey, lamb, etc.

Seafood, including fish and shellfish – preferably wild
Vegetables, except nightshades listed above
Fruits

Freshly squeezed juices are okay for making sauces or to use in recipes, just don't guzzle down a big glass of orange juice.
As I mentioned above, dried fruits are okay, but don't have too many. And make sure they are not sweetened with sugar.

Good fats including avocados; olives and olive oil; coconut oil, coconut butter, and coconut meat
What You Might Think You Can't Eat But You Can
Now, there are usually some gray areas when these detoxes, cleanses, and challenges are going on, so just to clarify, you MAY eat:
Pastured, nitrate-free bacon

This will be hard to find with no sugar so if it's 1-2 percent sugar, it's not enough to worry about in my book.

Sausage that doesn't include paprika or cayenne, or other non-paleo additives
Vinegars including balsamic, rice, coconut, and apple cider
Coconut aminos (soy sauce replacement)
 Let's Get Started
I'm going to post five cleanse-friendly dinners each Friday. That means that on the other two days you can eat leftovers or get creative. For lunches, I usually have the same thing each day so it wouldn't be too exciting to post: salad with a ton of veggies, topped with a protein (usually chicken that I've grilled on my prep day). Breakfast will be my biggest challenge, since I am an egg lover. Instead of starting my day with sauteed veggies topped with eggs, I plan to simply substitute another protein for the eggs. Leftover burger, fish, steak—or when I don't have any leftovers, I'll have some bacon, ham, or sausage. Now that fall's here, I'll be making some of my acorn squash porridge for breakfast, too.
Looking Ahead
As I went through my old recipes, I found that the majority of them do not meet the criteria for this cleanse. There are a handful that do, and I will be combining those with some new recipes in my upcoming meal plans. I plan to post my meal plans on Fridays, so if you want to wait a week to start your cleanse, you can use this Friday's plan as a starting point. As always, my plans will include five dinners and a shopping list. I will probably also post some lunch and breakfast recipes throughout the week. I have already started posting everything that I eat over the next 21 days on my Paleo Table Facebook page. Take a look and see what's working for me. Hopefully, it will make your journey a little easier.
Remember, you only have one body, it's up to you to take care of it. Have an awesome, healthy week!