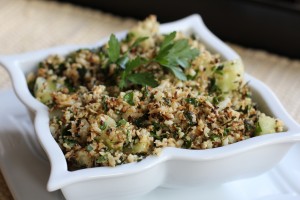 This recipe is a natural to go along with lamb kabobs, but it is also great with chicken, burgers, or pretty much anything. I've gotta say, this salad is a winner! It would be great to bring to a picnic—no one would even know it's paleo.  It was the perfect complement to our lamb and uses a lot of the same ingredients as the mint chimichurri, which helps simplify things in the kitchen. I had leftovers for lunch today with some rotisserie chicken mixed in. Yum!
If you leave out the tomatoes, this recipe is AIP friendly, too!
Cauliflower Tabouleh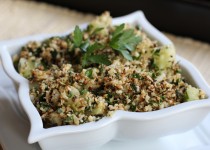 Prep Time:

45-60 minutes

Cook time:

30-40 minutes

Yield:

2 cups
Ingredients:
Preparation:
Preheat oven to 400ºF.
Pulse cauliflower in a food processor until it resembles couscous.
Spoon cauliflower into a rimmed baking sheet and toss with olive oil and sea salt. Shake the pan to spread the mixture evenly over the pan.
Transfer to the oven and prop the door open slightly with a folded dish towel to allow steam to release.
Bake 30-40 minutes, until slightly toasted (or cooked through), stirring every 10 minutes. The cauliflower will usually turn light brown, but sometimes it stays white, just be careful not to let it burn.
Remove cauliflower from the oven and let it cool in the pan.
While cauliflower is cooking, prepare vinaigrette by placing all ingredients in small mason jar or other lidded container and shaking to combine. I use a salad dressing shaker for mine. You could also whisk ingredients together in a small bowl.
Toss cooled cauliflower with mint, parsley, tomatoes, and cucumbers.
Add dressing and toss to coat.
Adapted from jensgonepaleo.