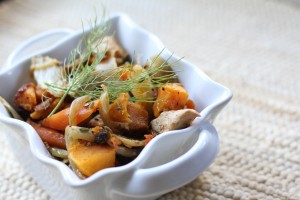 This is one of my favorite paleo comfort foods. The flavors are wonderful and it comes together quickly when using rotisserie chicken. It's great with the butternut squash, but you can substitute sweet potato and maintain the same flavor.
Chicken and Veggie Hash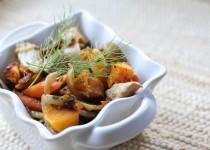 Prep Time:

15 minutes

Cook time:

45 minutes

Yield:

4 servings
Ingredients:
Preparation:
Veggies
Preheat oven to 400° degrees F.
While oven is preheating, prepare the carrots, squash, and fennel.
Once the veggies are chopped, spoon coconut oil onto the baking sheet and transfer to the oven to melt, about 1 minute. Carefully remove warm pan from the oven and add veggies to the pan; toss with oil to coat. Sprinkle with fennel seed, salt, and pepper, and transfer back to the heated oven.
Roast until caramelized, about 15 - 20 minutes (depending on the size of the veggies).
NOTE: The veggies can be prepared in advance. Feel free to increase the quantity and use the leftovers for other meals—veggies are very versatile. Let them cool before transferring to a container and store in the refrigerator for up to one week.
Hash
Heat a saute pan over medium-high heat.
Add bacon and cook until fat is rendered and bacon is crispy (add about 1 Tbsp of bacon fat and a handful of bacon pieces to the pan, if you've prepared the bacon in advance).
Add the chicken to the pan and toss to coat with bacon fat. Cook until browned, about 2 minutes.
NOTE: If using raw chicken, cut it in pieces and add it at this point. Saute in the bacon fat until cooked through, adding more fat, if needed.
Add roasted vegetables and toss to coat. Sprinkle with ½ Tbsp fennel and toss or stir. Cook until everything is heated through, about 3 - 5 minutes.
Serve garnished with chopped fennel fronds, fresh parsley, and olive tapenade (I pulse 1 cup drained kalamata olives, 1 Tbsp capers, a dash of thyme, and olive oil in a food processor or use a store-bought olive muffalata from a local vendor.)...or just eat it as is.
Adapted from JensGonePaleo.