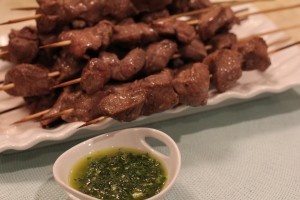 A couple of years ago, I went to a cooking event where participants were divided into teams, and each team prepared a different dish. One team prepared a dish quite similar to this one. However, instead of pre-cut lamb, they cleaned and cut a boneless leg of lamb, which was very time consuming, but delicious. The kabobs were passed with the chimichurri for dipping. And although it's great party fare, we usually enjoy it for dinner.
This recipe is a shortcut. I marinated pre-cut lamb stew meat from
Wallace Farms
 in olive oil, salt, and pepper for an entire day. Then, I broiled the lamb for just under 10 minutes. The end result? A very tender, delicious meat. The most rewarding part for me though was when Aly got home, after having dinner at a friends house, and saw the food photos on my computer. She asked to have some leftover lamb in her lunch because it looked so good! Score one for Mom!
The accompanying mint chimichurri is excellent and uses several of the same ingredients as cauliflower tabouleh. 
The garlic, mint, and parsley offer a great combination of flavors. 
To save time, I use the food processor to 
chop the garlic, parsley, and mint 
separately, ensuring that I have enough parsley and mint for both the chimichurri and the tabouleh. 
Same 
thing when squeezing the lemon juice
—make enough for both recipes.
If you are making this on a weeknight after work, I suggest roasting the cauliflower the night before. If not, you can prepare the rest of the meal while the cauliflower is roasting. Draping a towel over the oven door is a great way to let the steam escape so that the cauliflower can roast without too much moisture.
Lamb Kabobs with Mint Chimichurri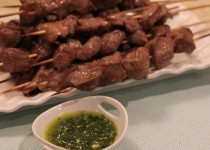 Prep Time:

01h 30min

Cook time:

10 minutes

Yield:

4-5 servings
Ingredients:
Preparation:
Lamb Kabobs
Put lamb in a shallow baking dish or bowl. Add the olive oil, salt, and pepper, tossing gently to coat. Marinade 1 hour or longer. The longer you marinade, the more tender the lamb will be. I always try to marinate mine for an entire day.

Preheat broiler. Place lamb 2-3 inches under the broiler and broil until just lightly browned, about 2-3 minutes.
Turn over and cook on the other side until the meat is brown, about 2-3 minutes. (Alternatively, grill on a grill for 2-3 minutes per side, until cooked through to medium rare).
Transfer to a platter and serve immediately with chimichurri.
Mint Chimichurri
Mix the garlic, mint, and parsley in a medium bowl.

Add the lemon zest and juice, oil, and salt. Stir to combine.
Transfer to a small serving bowl. Spoon on top of kabobs or alongside for dipping.