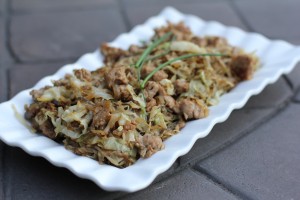 This is one of the very first recipes I posted on Paleo Table. It is so quick and easy to put together, and it really is delicious comfort food. I always serve it with Fried Apples. They go so well together! This recipe is AIP friendly if you simple leave out the paprika and use an appropriate fat. I just started cooking with lard and it worked perfectly for this recipe! If you are prepping in advance, you can cook the sausage and slice all the veggies ahead of time. After that, it will only take about 15 minutes to complete.
Sausage and Cabbage Noodles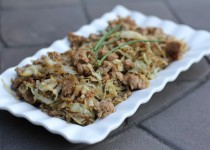 Prep Time:

5 minutes

Cook time:

25 minutes

Yield:

4 servings
Ingredients:
Preparation:
In a large skillet, crumble the sausage and brown over medium-high heat.
Once the sausage is fully cooked, transfer it to a plate or bowl and set aside.
Add the fat to the same pan with the sausage drippings.  Add onions and cook for about 5 minutes or until the onions just start to brown.
Add the cabbage and cook for another 7-10 minutes or until the cabbage is tender and noodle-like.
Transfer the sausage back to the pan, add the spices, and toss gently to combine.
Divide evenly among plates and serve with Fried Apples.
Adapted from everydaypaleo.com.