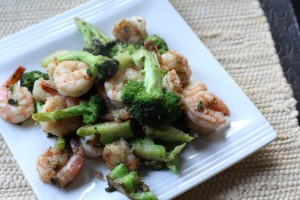 As I was developing a meal plan for my 21-day cleanse, I knew that we would have shrimp at least once. Josh loves shrimp, it is quick and easy to make, and it can be dressed up in a number of ways. In the end, I decided on this very simple yet flavorful dish. I love the combination of ginger and garlic—and amazingly, that is all this dish really needs. It may seem like two pounds of shrimp is a lot, but we went through it all between me, Dave (who actually eats enough for two people), and Josh. (Aly is not a fan of shrimp.) If you buy peeled and deveined shrimp, you can be done with this dish in 15 minutes. Allow a little extra time if you need to prepare the raw shrimp.
I like to grate my ginger in our Magic Bullet. I add the ginger and just a tiny bit of water, then let it do its thing. It comes out perfect every time. For this dish, I prepared my garlic the same way. Quick, easy, and delicious…just the way I like it! I thought I would need coconut aminos for flavor, but this really stands well on its own. It's great either way, so feel free to add a splash if you'd like!
Shrimp and Broccoli Stir Fry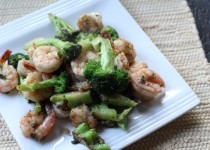 Prep Time:

5-10 minutes

Cook time:

10-15 minutes

Yield:

2-4 servings
Ingredients:
Preparation:
Roughly chop ginger and place it in a Magic Bullet, blender, or food processor. Add a tiny bit of water and process it until it forms a paste. Transfer to a bowl and repeat this process with the garlic.

Warm 1 Tbsp lard in a very large skillet or wok over medium-high heat. Add broccoli and saute for 1-2 minutes. Cover and cook until almost tender, stirring occassionally, about 3-4 more minutes.

Push broccoli off to the side and add a little more lard, if needed. Add shrimp and toss gently for 1-3 minutes or until pink on both sides.

Add ginger, garlic, salt, and pepper. Use a large spoon or spatula to combine ingredients. Continue to saute until shrimp is cooked through.

Transfer to plates and serve with coconut aminos, if desired.