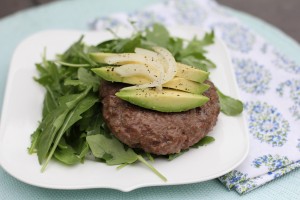 When Dave was in Champaign, IL, last summer while Josh was in gymnastics camp, he had plenty of time to sample the local cuisine. One of his favorite discoveries was Big Grove Tavern. And although he didn't try their Tavern Burger, he heard a lot of people raving about it and asked me to try making it at home. The burger listed on their menu is a combination of beef, bison, and pork. To me, that sounds like a lovely flavor combination with enough fat to not need any additional binder mixed in. To keep this burger simple, I added a little salt and some yummy toppings. The results were delicious. I've made these burgers several times already we like them so much!
For convenience sake, I use the entire one-pound packages of meat. You end up with three pounds of burger, but we had no problem finishing them off as leftovers throughout the week. You can even freeze a portion of the uncooked burgers and thaw them for a quick dinner. I hope you enjoy these yummy burgers!
Tavern Burger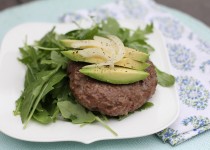 Prep Time:

10 minutes

Cook time:

10 minutes

Yield:

6-12 burgers
Ingredients:
Preparation:
Using your hands or a large spoon, combine pork, bison, beef, and 1 1/2 tsp salt in a large bowl. 

Form mixture into 12 patties for 1/4-pound burgers, or 6 patties for 1/2-pound burgers.

Season both sides of the burgers lightly with salt and pepper, if desired.

Grill over medium-high heat until they reach your desired level of doneness, or about 3-4 minutes per side for medium rare.

To serve, divide arugula evenly among plates, drizzle with olive oil and season with salt and pepper. top with a burger, then garnish with avocado and onion.