I've seen so many recipes floating around for chocolate pudding using avocado as the base. It makes sense; ripe avocados can get really creamy. But how would they taste mixed with unsweetened chocolate?
I experimented a bit to get these quantities right because, let's face it, if you are eating pudding made out of avocado, you not only want it to be less bad for you than regular pudding, but it also has to taste good! I am not interested in eating a bitter chocolate-avocado concoction. And because I am in the midst of a 21-day cleanse, sweetening with honey or maple syrup isn't an option. So I turned to one of the sweetest fruits out there: bananas. I typically stay away from bananas because they are so high in natural sugars, but this pudding is a treat. And a banana is a much better treat than so many other traditional treats that are out there. I also divided this into four portions. It is very rich and a little bit goes a long way.
This cleanse has really gotten rid of my cravings for the most part, but a girl's gotta have some chocolate every once in a while, right? This pudding is great! I love the salt in it and thought it tasted a little flat without it. You definitely need two bananas, because just one makes it just not worth it. You can enjoy this treat even when doing a cleanse, but if you are doing a sugar detox, be sure your bananas have green tips.
The pudding will keep in and airtight container in your fridge for at least three days. Before eating, feel free to sprinkle it with unsweetened coconut or chopped nuts. I'd love to hear how you like this tasty treat! Enjoy!
Chocolate-Banana Pudding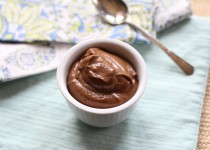 *To ensure your pudding is not bitter, be sure to use a smooth-tasting cocoa powder. I use OJIO 100% Organic Cacao Powder that a friend recommended to me. He picked it up at Whole Foods.
Prep Time:

5 minutes

Yield:

4 servings
Ingredients:
Preparation:
Place all ingredients in a food processor, blender, or Magic Bullet. Process until smooth and creamy. If the mixture is too thick, add a little coconut milk.
Store in an airtight container for 3 days.