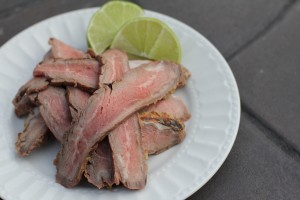 This is one of the very first recipes I posted—Week 2! I'm enjoying going back through the recipes and updating them. It's amazing what you learn after cooking paleo for two years. I am so much more confident in the kitchen and able to adapt recipes to my own tastes without being afraid of messing something up. So here it is again: A simple marinade recipe that packs a nice punch. The lime and orange give this steak a nice tangy edge.
Flank Steak with Citrus Marinade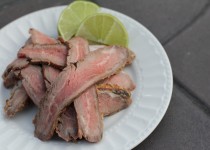 Prep Time:

60 minutes

Cook time:

15 minutes

Yield:

4 servings
Ingredients:
Preparation:
Combine juice of orange and limes in a small bowl.
Add crushed garlic and grated ginger to marinade.
Whisk in brown mustard and vinegar.
Place flank steak in a resealable bag, add marinade, and shake to coat the steak. Refrigerate for 30 - 60 minutes.
Preheat grill to medium-high heat.

Remove steak from marinade.

Grill flank steak for 6 - 7 minutes per side, turning once.
Serve thinly sliced with your favorite side. Goes great with cauliflower mash or kale with coconut milk and bacon.
Adapted from www.primal-plate.com.