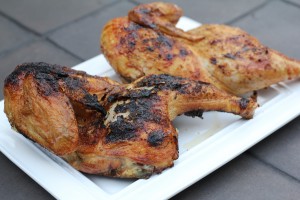 As we were chilling out on Labor Day, I was enjoying all of the awesome smells wafting from our neighbors' grills. We'd grilled steak the night before, so that was not an option. I had just picked up a two-pack of Coleman's Organic whole chickens at Costco that were just yearning to be a part of our meal. And thus, this recipe was born.
I have butterflied a whole chicken before. And although it seems like a daunting task, it really only takes all of 10 minutes, tops. Yes, it can get a little slimy, but that's what gloves are for, right? I throw caution to the wind and go gloveless, although I give my hands and nails a good scrubbing afterwards. Here is a great video showing how to butterfly a chicken: youtube.com.
Once you have butterflied your chicken, simply season it the way you want, and let it grill. For this recipe, I seasoned it simply with my magic trifecta of sea salt, onion powder, and garlic powder. Feel free to spice it up, if you'd like. I would have normally added black pepper, but then my kids wouldn't eat it. A little paprika would work well, but I made this dish in the midst of a 21-day cleanse. So I just kept it simple.
The chicken cooks in just about the same time as it does in the oven, but the skin is extra good and crispy! Plus, there's very little clean up. Although this is my first time cooking a whole chicken on the grill, it definitely won't be my last. Enjoy!
Grilled Whole Chicken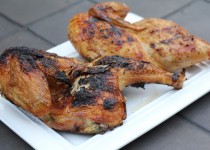 Prep Time:

15 minutes

Cook time:

40 minutes

Yield:

4 servings
Ingredients:
Preparation:
Remove and discard (or use for bone broth) the extra goodies stored inside the chicken cavity.

Remove the backbone of the chicken with very sharp kitchen shears. Flatten the chicken, skin side down, and use a sharp knife to remove the breast (or keel) bone. For easier flipping, I like to then split the chicken into two halves, but you can leave it whole, if you'd like.

Rinse chicken in cool water to remove any remaining body parts that shouldn't be there, then pat chicken dry with paper towels.

Season both sides liberally with seasonings of your choice.

Preheat grill to 350°F. Place chicken breast side up on the grill and cook, covered, for 15 minutes.

Use tongs to flip the chicken so that the breast, or skin, side is down. Continue to grill for about 20 minutes or until skin is crispy and chicken reaches 165°F with a meat thermometer.

Transfer to a plate and let rest under tented foil for 5 minutes. Split chicken into pieces and serve family style.