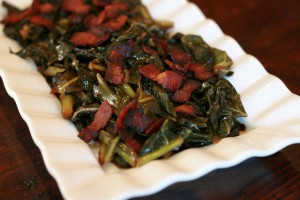 I was first introduced to kale when I joined a local CSA. Now we eat it all the time. I prefer it cooked and have tried several different methods. When I tried this recipe, it beat all the others hands‐down. It takes a little time to braise the kale, but it takes very little effort. And it's definitely worth the wait!
Kale with Coconut Milk and Bacon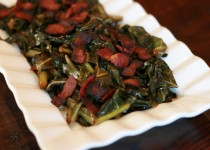 Prep Time:

15 minutes

Cook time:

45 minutes

Yield:

4 servings
Ingredients:
Preparation:
In a large sauté pan, cook bacon over medium heat until it is crispy and renders fat, about 10 minutes. Remove bacon with a slotted spoon and transfer to a towel to drain.
Add onions to bacon fat and cook until translucent, 5 to 8 minutes.
Add kale and sauté until it wilts, stirring occasionally to combine with the onion. If more fat is needed, add 1 Tbsp of the fat of your choice.
Add coconut milk and broth and continue to cook until kale softens to your liking, 10 to 20 minutes. Add additional coconut milk or broth to pan if it is too dry.
Add bacon back to pan and season with salt and pepper, to taste. Toss gently to combine.
Adapted from Paleo4Health.