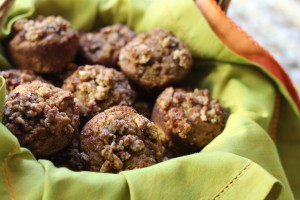 Are you ready for fall baking? This is an amazing recipe to kick off the paleo baking season. I love pumpkin and the warm, comforting flavors that come along with it, but I'd never mixed it up with zucchini. Well, I have to say that they are a match made in baking heaven! I am very proud of how this recipe turned out and am excited to offer another awesome way to use zucchini—one of my favorite vegetables.
The key to success in making these deliciously sweet muffins is to thoroughly dry the shredded zucchini before mixing it into the batter. The zucchini I used was really moist, so it needed quite a bit of drying. A LOT of moisture came out when I was wringing it in a kitchen towel over the sink. I could have had a big glass of zucchini juice if I wanted, but that doesn't sound so tasty to me…
I used my food processor to make things quick and easy, but if you want to use a hand grater, just be sure to follow the drying instructions listed below. The streusel is optional. If you don't like nuts, feel free to leave it off. They are yummy either way.
I LOVE these muffins and I hope you do, too! Please leave me a comment and let me know what you think!
Also, if you haven't checked out my Facebook page yet, head on over and give it a Like: Paleo Table! I post almost daily with interesting tips, information, and updates. Have a happy and healthy weekend!
Pumpkin Zucchini Muffins with Streusel Topping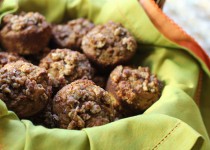 Prep Time:

20 minutes

Cook time:

30 minutes

Yield:

12 muffins
Ingredients:
Preparation:
Preheat oven to 350°F.

Using the grater attachment on your food processor, grate the zucchini. Remove a handful of the zucchini shreds with clean hands and squeeze moisture out over the sink or a bowl. Transfer the zucchini, by handfuls, into a kitchen towel set inside a medium bowl. Twist the towel closed and, over a sink, wring the remaining moisture out of the zucchini. Wipe any moisture from the bowl, then line it with a clean kitchen towel. Transfer zucchini to the towel-lined bowl, spread it out a little bit, and continue to let it dry while you complete the remaining steps.
NOTE:

 Don't skimp on drying out the zucchini or you will end up with mushy muffins.  This step is VERY important. 

Prepare streusel by pulsing pecans, almond flour, maple syrup, butter, and salt in the bowl of a food processor until a crumbly mixture forms. Set aside.

Prepare muffin tins by coating lightly with coconut oil.

Sift the dry ingredients into a medium mixing bowl.

Mix the wet ingredients in a large bowl with a hand mixer.

Add the dry ingredients to the wet ingredients and mix until well combined. 

Use a wooden spoon or rubber spatula to fold 1 cup of shredded zucchini into the batter. (Reserve the rest of the zucchini for another use.)

Spoon batter into muffin tins. (Batter will be thick.)

Sprinkle muffins with streusel mix, using your fingers to gently press the streusel into the muffins.

Bake for 20 minutes or until toothpick inserted into the center comes out clean.

Let cool before serving.